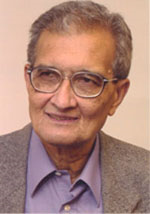 received the Nobel Memorial Prize in Economic Sciences...
Aliso Viejo, CA (PRWEB) March 19, 2014
Nobel Laureate Amartya Kumar Sen, 81, will be speaking to Soka University's 10th graduating class on May 23, 2014. He received the Nobel Memorial Prize in Economic Sciences for his work in welfare economics in 1998. His choice of a career in economics and his interest in famine began when he was nine years old -- and witnessed the Bengal famine of 1943, in which three million people died.
Sen also holds the highest civilian award given in India – the Bharat Ratna. He is the Thomas W. Lamont University Professor, and Professor of Economics and Philosophy at Harvard University, and was until recently the Master of Trinity College, Cambridge. He has served as President of the Econometric Society, the Indian Economic Association, the American Economic Association and the International Economic Association. He was formerly Honorary President of OXFAM and is now its Honorary Advisor.
Sen's research in economics, philosophy, and decision theory has included social choice theory, welfare economics, theory of measurement, development economics, public health, gender studies, moral and political philosophy, and the economics of peace and war. His books have been translated into more than thirty languages.
Amartya Sen is a Fellow of the British Academy, Foreign Honorary Member of the American Academy of Arts and Sciences, and a member of the American Philosophical Society. He has also received the Senator Giovanni Agnelli International Prize in Ethics; the Alan Shawn Feinstein World Hunger Award; the Edinburgh Medal; the Brazilian Ordem do Merito Cientifico (Grã-Cruz); the Presidency of the Italian Republic Medal; the Eisenhower Medal; Honorary Companion of Honour (U.K.); and The George C. Marshall Award.
He has been a visiting professor at Massachusetts Institute of Technology, UC-Berkeley, Stanford and Cornell. He also taught economics at the University of Calcutta, the Delhi School of Economics, the London School of Economics and the University of Oxford. He joined Harvard in 1986 and he was appointed Master of Trinity College, Cambridge in 1998, returning to Harvard in 2004.
Rabindranath Tagore, the famous Bengali poet, is said to have given Amartya Sen his name -- which means "immortal".
Soka University is a private, non-profit, four-year liberal arts college and graduate program. SUA offers a 9:1 student/faculty ratio and an average class size of 12. The campus was rated in the Top 50 National Liberal Arts Colleges in US News and World Report's "Best Colleges 2014." All undergraduate students participate in a semester of study abroad during their junior year which is included in the tuition. Free tuition is available to eligible admitted students whose annual earned family income is $60,000 or less. The university is open to top students of all nationalities and beliefs and was founded upon the Buddhist principles of peace, human rights and the sanctity of life. About 60% of SUA's students come from the US and 40% have come from 40 other countries. For more information: http://www.soka.edu.