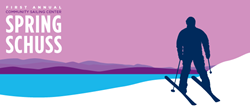 Burlington, Vermont (PRWEB) March 18, 2014
The Community Sailing Center is pleased to announce their Inaugural Spring Schuss Benefit at Bolton Valley Resort on Friday, March 21st from 4:00pm-9:00pm. Spring Schuss will become an annual event, connecting folks who love the lake and the mountains around Spring runoff, when the snows of winter become the waves of summer.
The Community Sailing Center is bringing a bit of Lake Champlain to the mountains with special races and cocktails to get everyone dreaming about summer. Participants will engage with how the mountain snow flows downhill to the Lake, picking up all sorts of stuff along the way, and how we all can take some responsibility for human impact to the Lake's health - one of our most important natural resources - all while enjoying an amazing night of skiing and riding!
Support your Community Sailing Center and join the movement of water from the top of the mountains to the waves on the Lake. Rally your friends, families, and co-workers and head to Bolton for one last epic night of mountain fun. The Spring Schuss is a downhill race, night skiing and riding opportunity, and après ski party in the lodge (non-skiers and rider are welcome, too!). Skiers, boarders, and tele-skiers, as teams (of up to 6) or as individuals will compete for awesome prizes.
The Spring Schuss is generously sponsored by Dealer.com and proceeds benefit the Community Sailing Center. The Community Sailing Center (CSC) takes an active role in protecting the health of Lake Champlain. The CSC believes Lake Champlain is Vermont's greatest natural resource and as its community we must be its voice. Because the health of the lake is so vital to our community, we include environmental education as part of every program we offer to enhance people's understanding of how human actions impact the health of the lake. Our WAVES initiative helps guide the development of all programs to ensure we meet our mission.
The goals of the WAVES initiative are to:

Combine paddling and sailing with hands-on learning to enhance community members' connection to the natural world of Lake Champlain.
Work with local schools and youth-serving non-profits in order to teach the importance of lake stewardship.
Minimize our impact on the natural world by maintaining strong recycling efforts throughout the year and a compost system in summer months.
Train our staff to be effective environmental educators who inspire youth and adults to be voices for Lake Champlain.
Programs we work with:

Rozalia Project for trash data collection.
Vermont Department of Environmental Conservation (VT DEC) for our LAY monitoring program (water quality).
Lake Champlain Committee for blue-green algae monitoring.
11th Hour Racing for plastic water bottle reduction using the Zip to Water container.
# # #
About the Community Sailing Center: The Community Sailing Center is a community based 501(c) (3) organization with a mission to inspire the celebration and stewardship of Lake Champlain for all people through access, education and recreation. For more information, please visit http://www.communitysailingcenter.org.