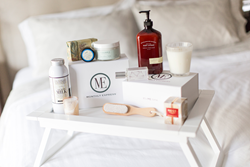 Mothers are incredibly special individuals… there are few gifts that really express the appreciation we have for them.
NEW YORK, NY (PRWEB) March 18, 2014
There's nothing quite like the excitement of receiving a surprise gift in the mail. It is even better if the gift in question turns out to be an elegantly assembled luxurious giftbox designed to bring the recipient "me time" - time to relax and escape from the day-to-day. It was this experience that Tara and Travis Loring, founders of MonthlyExpress, had in mind when they first conceived MonthlyExpress: a luxury-minded membership service that delivers vetted monthly collections to women, creating a sense of relaxation and sanctuary from daily, hectic lifestyles by rejuvenating body, mind and spirit.
'We wanted to bring the magic back to 'me time', in treating yourself or the special women in your life - mom, sister, friends," explains COO Tara Loring. "We do so through relaxation-infused products that are carefully vetted for our quality standards."
The subscription market today, however, is replete with modern-day parcels reminiscent of care packages. Curated boxes, a fairly new business model, typically contain a mix of items tailored to a theme or demographic. The parcels are mailed out on a recurring basis and typically feature some element of surprise. Some boxes may lack big-ticket items, raising questions of value. Some may be missing the mark by matching customers with poorly suited items. This is a fact that is not lost on the first-time entrepreneurs.
"We were curious to see if other women around the country agreed with us," says CEO Travis Loring. "We have yet to hit the six month mark... but the feedback and response from new members and the press has been exceedingly positive... women definitely appreciate and love their 'me time!'. The future... [I] am happy to say... looks very bright."
That is why the startup team is already well into planning for May and preparing for what is to be a very important holiday for their members: Mother's Day. The company's sourcing team has already hand-selected products from all over the world for consideration. What are the potential candidates for the special May collection? The company is keeping quiet on their final selection, but have revealed that products under consideration include a "tantalizing crème from Paris", a "sinfully decadent" mud mask from Sri Lanka and other revitalizing products that "exude pure luxury."
"Mothers are incredibly special individuals..." says COO Tara Loring, "there are few gifts that really express the appreciation we have for them." Sunday, May 11th is certainly the day to show it.
Many wait until the last minute to select a Mother's Day gift. After all, it is difficult selecting a present, year after year. Purchasing a gift that celebrates the woman who gave birth to you or the female who has most greatly influenced your life adds even more insurmountable pressure, which can force buyers to choose "easy" gifts - such as gifts cards or off-the-shelf gift sets. But gifters who want to purchase their luxe membership for their mother and important women in their lives will have to shop early if they want to snag a MonthlyExpress membership for Mother's Day this year, because the Founders are making it clear: memberships are "very, very limited... many have already been claimed by [our] existing members."
There is, after all, no better recipient for luxurious pampering than Mom.
ABOUT MONTHLYEXPRESS
MonthlyExpress is a membership-based service offering luxurious collections of soul-nourishing, boutique products, delivered monthly to your door. Members discover unique, hard-to-find, and even limited-supply high-end products from shops and brands all over the globe inside each shipment. The thoughtful products inside MonthlyExpress' signature white linen boxes are luxurious and rejuvenating - offering replenishing moments of ME time, any time. MonthlyExpress is accepting gift orders now for Mother's Day. With one-month, three-month, and six-month memberships available, these beautifully wrapped collections will be delivered straight to each gift recipient's doorstep along with the option of a special message written inside. For more information and to gift a membership, visit MonthlyExpress online at http://www.monthlyexpress.com/gift-it. They can be found on Facebook at http://www.facebook.com/monthlyexpress and on Twitter at @MonthlyExpress.