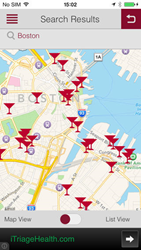 (PRWEB) March 18, 2014
A new app for iPhone, iPad, and Android called NiteHawk helps users find and rank the leisure spots close to them. The app is available for free in the iTunes App Store and Google Play.
The app includes listings for hotels, restaurants, bars, clubs, and lounges in the United States. The user can rank and comment about each leisure spot after registering with the app. Users connect with each other and can see new ranks and comments from their friends as they happen. Users can also filter and view ranks of each spot based on the type of crowd, music, and drinks with the help of the Ranking features.
NiteHawk provides two types of ranking: General and Detailed. Once a user ranks a spot as "Frozen – Dead and Done," "Chill," "Heating Up," or "On Fire," the Detailed Ranking screen becomes available. There, the user can rate the capacity and ambiance of the crowd, as well as estimate the gender balance; tick off types of music being played; rate the strength and pricing of the drinks, as well as the service; and record the cover charge and time spent waiting to get in.
Users can also post comments and upload photos of each spot. Comments and pictures can be shared within the NiteHawk network and to Facebook and Twitter.
The app also provides a Map and List feature, to enable search based on location. With the Where Are You feature, the app allows the user to view or rank leisure spots in the nearby areas based on the current location of the user. Users can also search major metropolitan areas or for specific spots.
The NiteHawk app was developed for Andrew Boston by Zco Corporation, one of the largest mobile app developers in the world.
About Zco Corporation
Zco Corporation is one of the largest custom app developers in the world. Founded in 1989 and headquartered in Nashua, New Hampshire, Zco has served Fortune 20 companies to small businesses for over 20 years. Its services include mobile and enterprise app development, 3D animation and games, augmented reality, and custom software. In addition to Zco's work for hire, it has an iOS and Android-based public safety product, PublicEye®. To learn more, visit http://www.zco.com/.