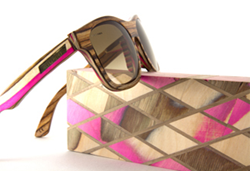 "We wanted to make something really unique and extremely high quality, and we wanted the workflow from design to manufacturing, performed in the United States. That doesn't happen for many labor intensive products anymore these days in the business world
(PRWEB) March 20, 2014
Arc-Iris, based out of American Falls, Idaho, focuses on the design, prototype and manufacturing of cutting edge wood sunglasses. They currently offer over 100 different styles and color variations of eyewear, all based on a wood medium.
"I saw a new industry emerging, and from our artistic, engineering, and technology background, I knew that we could make the ultimate product," says Arc-Iris founder Clayton Fehringer. "It was extremely difficult getting off the ground, as we had to formulate ev­­­­erything from w­­eb development to manufacturing from scratch. There isn't really a manual on what we were trying to achieve, so we wrote one for ourselves. It took some time and a lot of hard work, but it turned out to be a labor of love."
After over two years of extensive research and development, the concept and hard work is becoming a reality. "My father was always really into woodworking, building things, and art. My talents were invested in technology, and I was looking to form an awesome company. It was a perfect match, and now a family affair." Arc-Iris launched in November of 2013, and now has over 10,000 Facebook fans.
Each new wood sunglass design starts with something as simple as a drawing. After concept, wood medium fuses with 21st century technology. "Its amazing to see a tree go through old-school woodworking tools, computer driven laser cutting, a high tech optical lab, skilled handwork, and come out an awesome, one of a kind pair of sunglasses," says one of the Arc-Iris employees.
"We wanted to make something really unique and extremely high quality, and we wanted the workflow from design to manufacturing, performed in the United States. That doesn't happen for many labor intensive products anymore these days in the business world."
Arc-Iris is very proud of the fact that their product is made in the USA, and also the advantage they have in rapid development. "We can just pull an idea out of our hats, head to the shop, and build something totally unique that doesn't exist. Throw the Internet into the mix and someone from Europe can be looking at a brand new, one of a kind product, designed and manufactured in a super short lead time."
Arc-Iris also does all web design, print, and photography in-house. They run a blog section on their site, which showcases some of the process and happenings, mostly through photography.
"We hope to continue this adventure well into the future. Building this type of company, with our American values is very difficult, but possible. We are extremely excited about bringing manufacturing back to our homeland, and hope that we are able to provide many jobs for people around us in the near future."
"Plus, we like making people look good on those summer days."
If you would like to learn more about Arc-Iris, or view our products and artwork, check us out at http://arc-iris.com/about/.