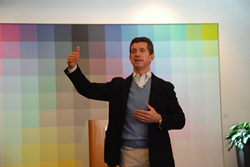 We need you in our economy, you are this country's next greatest generation; and without you, we will never get the economy going the way we should. -- Johnson & Johnson CEO Alex Gorsky
New Brunswick, NJ (PRWEB) March 17, 2014
In 2013, the GI Go Fund partnered with Johnson & Johnson to create a unique career workshop concept, where veterans who were employed at the pharmaceutical giant and other Fortune 100 companies would work with unemployed veterans to develop their resumes and improve their overall employment skills in a one-on-one atmosphere at their corporate headquarters. The partnership led to three different Military Career Workshops that year, with over 200 veterans getting the help they needed to improve their hiring prospects.
But for 2014, the plan was to grow above and beyond what was achieved last year and reach more veterans than ever before. So, at the first Career Workshop of the new year on March 15th at the Johnson & Johnson Headquarters in New Brunswick, more than 200 veterans, as many as were assisted all of last year, met with fellow veterans who have been hired at prestigious positions at the company to improve their skills and find out what it takes to work for one of the largest companies in the world.
The workshop featured over 50 volunteers working at high level positions at Johnson & Johnson, Ernst & Young, Citigroup, and Verizon - many of whom are former members of the military themselves. Chief among these mentors was Alex Gorsky, CEO of Johnson & Johnson and a former Army Ranger Captain himself, who told his fellow veterans about how companies are looking to them in today's workforce.
"We need you in our economy, you are this country's next greatest generation; and without you, we will never get the economy going the way we should," Gorsky said to the veteran audience. "Stay persistent, stay committed, and I am confident you will get to where you need to be."
Many of the 200 veterans on hand for the event heard about the program through the NJ Department of Labor One Stop Career Center in New Brunswick. Acting Manager Manuel Biagas and his team worked hard to notify and recruit veterans to attend, and their efforts served as a critical role in the event's success, along with providing resume help and interview coaching.
"This is perhaps my favorite event," said GI Go Fund Executive Director Jack Fanous. "At its core, it is veterans helping veterans, which is fantastic. But this event goes beyond that. It gives veterans who are out of work the opportunity to not only improve their job searching skills, but sit face-to-face with someone who has gone through the same unemployment experiences as them. And the enthusiasm that the event generates from the veterans and mentors participating in the event to partners like the Department of Labor ensuring that the veterans they work with come to it, it just shows how much we all want to get military veterans hired."
The event was held less than one week before the GI Go Fund hosted its 6th Annual Newark Job Fair at Rutgers-Newark. Most veterans who participated in the workshop this event plan to be at the Job Fair to put their new skills to the test with the dozens of employers expected to be on hand.
Last year, the organization held one of these workshops just days before it hosted its South Jersey Veterans Job Fair at the Aloft Hotel in Mount Laurel, NJ. Isaac Trinidad, a veteran who had the opportunity to attend both events, spoke about the value of going to the workshop before meeting with the employers at the job fair.
"There is a lot of opportunity here," he said during the Job Fair. "I was able to get a lot out of the workshop the other day, and now I get the chance to show what I can bring to so many different employers. I really feel like I can find a job here."
Recent unemployment reports from the Bureau of Labor Statistics show that Post 9/11 era veterans are currently suffering from an unemployment rate of 9.2%, almost three points higher than it was just a month before. Opportunities are available for veterans to connect to solid employment with employers willing to step up, including the Returning Heroes and Wounded Warrior Tax Credits, which will provide a tax credit of up to $9,600 to employers who hire veterans.
"The need is there to hire these young men and women, and the incentive is there for the companies as well," said Jack Fanous. "What we are trying to do is bridge the gap by creating as many opportunities to get unemployed veterans in the room with veteran-friendly companies like Johnson & Johnson so we can make sure that there is no such thing as an unemployed veteran."