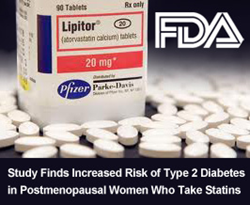 If you were prescribed Lipitor and developed Lipitor type 2 diabetes, contact Alonso Krangle today for a FREE Lipitor diabetes lawsuit evaluation. Call 1-800-403-6191 or visit www.fightforvictims.com
New York, NY (PRWEB) March 18, 2014
The attorneys at Alonso Krangle applaud the USJP's recent transfer order that will consolidate many pending Lipitor lawsuits in an MDL that will take place in the District of South Carolina federal court (Case MDL No 2502). The transfer order that has mandated this action was officially issued on February 18, 2014, and it named the Honorable Richard M. Gergel to oversee this litigation.
According to court documents associated with the transfer order, the federal South Carolina court was chosen both because it is "agreeable" to both the plaintiffs and the defendant, Pfizer, and because 14 of the pending Lipitor lawsuits are already being overseen by Judge Gergel in this court. The transfer order has officially centralized 56 Lipitor lawsuits, along with more than 170 tag-along actions, in the South Carolina court for more a streamlined discovery process and pretrial proceedings. Prior to this centralization, these cases were reportedly pending in more than 40 U.S. districts before more than 100 different judges.
New Lipitor MDL Will Facilitate Pretrial Proceedings, Transfer Order Explains
Although the Judicial Panel reportedly turned down the plaintiffs' petition to centralize these cases in MDL in a July 2013 hearing session (In re: Lipitor (Atorvastatin Calcium) Mktg., Sales
Practices & Prods. Liab. Litig., — F. Supp. 2d —, 2013 WL 4048505 (J.P.M.L. Aug. 8, 2013)), the Panel has noted that the Lipitor lawsuits filed against Pfizer "have increased significantly" since the July 2013 hearing session and "that many more cases will be filed," making informal coordination and cooperation of these cases no longer practicable.
Despite the fact that Pfizer has argued against the development of Lipitor MDL because, as the transfer order explains, the company is concerned it will spur a large number of "non-viable" cases, the Panel has argued that centralization of the Lipitor lawsuits under Judge Gergel will reduce such non-viable filings, as the Judge will be highly familiar with this litigation and, therefore, will be "uniquely well-positioned to recognize and dispose of spurious claims quickly."
Further supporting its decision to create the Lipitor MDL, the Panel has explained that centralizing these cases will eliminate duplicative discovery, prevent inconsistent pretrial rulings and conserve the resources of the litigants, their counsel and the judiciary.
[http://www.jpml.uscourts.gov/sites/jpml/files/MDL-2502-Initial_Transfer-02-14.pdf, February 2014]
Allegations in Lipitor Lawsuits
The allegations that have been pointed at Pfizer in the growing number of Lipitor lawsuits that have recently been consolidated in the MDL contend the use of Pfizer's cholesterol-lowering drug Lipitor has caused the plaintiffs to develop type-2 diabetes. Additionally, these cases also generally allege that Pfizer failed to adequately warn consumers and medical professionals of the serious risks associated with the use of Lipitor, that the company knew (or should have known) about these Lipitor risks and that it negligently marketed Lipitor without adequate instructions or warnings.
[http://www.jpml.uscourts.gov/sites/jpml/files/MDL-2502-Initial_Transfer-02-14.pdf, February 2014]
Alonso Krangle's experienced defective drug attorneys are dedicated to standing up for victims' rights and holding even the largest corporations accountable for their potentially dangerous medications. Free case evaluations are currently being offered to people who may have sustained serious injuries or developed type 2 diabetes that could be linked to the use of Lipitor. To discuss a potential claim with one of the Lipitor lawyers at Alonso Krangle LLP, please contact us at 1-800-403-6191 or visit our website,FightForVictims.com
About Alonso Krangle LLP
Andres Alonso and David Krangle, attorneys with almost 40 years of collective legal experience, have focused their law practice on handling significant personal injury cases, defective drug and medical device litigation, construction site accidents, nursing home abuse, medical negligence, qui tam/whistleblower actions and consumer fraud cases. Alonso Krangle LLP is headquartered in Long Island, New York, with offices in New York City, and New Jersey.
For more information about Alonso Krangle or to join the fight and be a part of our team, please contact us at 1-800-403-6191 or visit our website, FightForVictims.com.