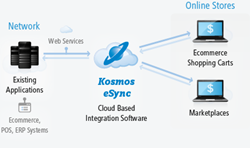 Portland, Oregon (PRWEB) March 27, 2014
Kosmos Central the next generation in Hybrid Cloud Platform Integrations, announced today that it launched a new Kosmos Hub partnership with Codesly, the creators of BrilliantRetail e- Commerce for ExpressionEngine.
"We are excited about our new partnership with BrilliantRetail, offering an Enterprise level CMS platform for E-commerce for web designers and developers alike. Now BrilliantRetail & ExpressionEngine CMS customers have instant access to the Kosmos eSync Hub." said Alex Skorohodov, CEO of Kosmos Central. "The coupling of our innovative technologies resulted in performance metrics that outperform other Enterprise E- commerce solutions. We're very excited about our partnership and the ability to provide Enterprise quality E- commerce at affordable prices."
"Kosmos Central is truly a perfect complement to the BrilliantRetail e-commerce platform. Our customers frequently request integrations to their existing or new POS and ERP systems. eSync gives us the abililty to deliver those integrations," said David Dexter, Founder of Codesly and the creator of BrilliantRetail. "Combining our teams experience in e-commerce along with Kosmos Central's integration experience is a powerful solution for our clients."
Kosmos eSync was engineered to eliminate the need to manage information across multiple databases. Kosmos eSync revolutionizes the industry in the way it integrates information between disparate systems. Once an ISV becomes a Kosmos Hub Member it gains immediate access to integrate its data with other Kosmos Hub Members.
Kosmos Central partnered with BrilliantRetail due to its focus on providing Enterprise level E-commerce to ExpressionEngine's CMS platform. BrilliantRetail coupled with Kosmos eSync permits web designers to provide their clients a custom (non-template) design and eSync's scheduler allows users to set any time interval to automatically sync product, order and customer information between their existing POS, ERP or CMS software.
About BrilliantRetail
BrilliantRetail is the next generation in CMS E-commerce created by the team at Codesly, giving users the tools to launch powerful e-commerce websites faster with a full set of customizable features, which are. powered by ExpressionEngine's Content Delivery Platform, and CodeIgniter's, open-source framework. For further information, please visit http://www.brilliantretail.com.
About Kosmos Central
Kosmos eSync is a cloud based, any point integration platform that seamlessly connects to any disparate system with an open API. Kosmos eSync's API builder can also create a new API for any ISV within a few days instead of the normal process of months. Kosmos Central is the trusted partner of choice for dozens of software venders. Our current Hub partners includes: Sage X3, Sage 100, Microsoft RMS Dynamics, Revel Systems iPad POS, Smyth Retail, Magento, X-cart and BrilliantRetail. For further information, please visit http://www.kosmoscentral.com.