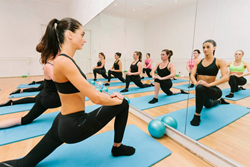 The flat abdominal exercises takes you nicely back to basics, as it were.
(PRWEB) March 23, 2014
In the video called Adelaide Pilates Core Abdominal Exercise, Gollan spends four minutes displaying the routine and stressing that it is particularly useful for post-natal women since it helps bring back abdominal separation and doesn't involve any disabling curling type stomach movements.
Pilates and Barre coach Gollan herself is seen demonstrating the exercise, called Toe Taps, just three weeks after she gave birth to a son.
"But it's not just post-pregnancy that these exercises work really well," she insists. "They're also good for individuals who have been doing Pilates for a long time and are now taking on a lot of curling type abdominal exercises. What doing the flat abdominal exercises does is take you back to basics as it were, to ensure that your abdominals are working 100% correctly and that you haven't picked up any bad habits as you've moved on to the tougher exercises."
To start the exercise, which is explained on her blog post entitled Abdominal Exercise Video: Inner Strength Pilates, Gollan advises the viewer to lie down on the ground back-down. This can be on a mat or blanket, just so long as there is no discomfort coming from the spinal region. The arms should be relaxed and lying by the sides of the body. The neck too should remain relaxed to ensure there is no tension in the shoulders. There should be a tiny space beneath the back and the ground.
Both legs should then be brought up into the 'chair' position. Taking a breath in to prepare, it should be exhaled while the core is engaged. One foot is then lowered down onto the floor to tap it (although if this seems too much at first then simply lowering the foot half way down is good for beginners). The foot should be returned when inhaling.
"This is quite a simple little exercise," admitted Gollan. "However, what you don't want is to feel is your back arching because that means your pelvic floor isn't doing any of the work. Instead you want to feel a nice tightness in your lower abdominal region which in turn signals that the core is working correctly. And there shouldn't be any pain or discomfort elsewhere in the body."
Gollan goes on the summarize the exercise thus:

breathe in
exhale through the mouth
engage the core before the leg raise
Breathe in to return
Breathe out with pelvic floor lifted
Leg down, breathe in to return
Gollan and her team of two other Pilates and Barre coaches offer a series of classes demonstrating a number of Pilates, Barre and Reformer exercises such as the above. Clients who attend a class at one of the three Inner Strength Pilates studios on King William Road in Adelaide are given individual assessments and provided with a Pilates personal exercise plan aimed at maximizing their goals from the classes.
Clients attend classes for a number of reasons such as improving stamina, posture, body conditioning, recovery from injury, weight loss and even for help with reducing headaches and symptoms of insomnia.
Classes can be booked online via the Inner Strength and Barre studios website on the Class Schedule page. Further information, and exercise tips, can be found on Gollan's company Facebook page and on the Google+ location pages.