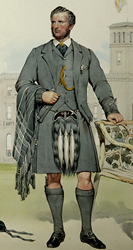 Certainly friends, and possibly lovers, the 15-year relationship between Queen Victoria and her Highland ghillie has always been the source of controversy and speculation.
Boston, Massachusetts (PRWEB) March 21, 2014
In Scotland and throughout the United KIngdom, the friendship between Queen Victoria and John Brown has been called "one of the more unlikely upstairs, downstairs relationships" in British history. Some say they were romantically involved; possibly secretly married. Whatever forms their relationship took, it was one that endured, extending from the death of Victoria's consort, Prince Albert, in 1861, to Brown's demise in 1883. During that time, Brown was the recipient of numerous gifts of jewelry from Victoria - stick pins, cloak clasps, and cuff and collar studs - engraved with her royal cipher. Upon his death, his collection also contained kilt pins and brooches adorned with colorful Scottish semi-precious gems and pebbles.
The relationship between queen and commoner was the subject of the acclaimed 1997 film, Mrs. Brown, which starred Judi Dench as Queen Victoria, and Billy Connolly as Brown. Scottish actor Gerard Butler also made his debut playing Brown's younger brother in the film. In 1998, the John Brown collection was sold by Sotheby's at Gleneagles in September, 1998 Gleneagles, where a number of lots were purchased by Herbie Schinderman, owner of Ann-Morris Inc, the Manhattan-based firm that specializes in fine Scottish antiques and lighting.
Mr. Schinderman has been a long-time patron of the National Trust for Scotland and has generously donated several very special pieces from the John Brown collection to 'A Celebration of Scotland's Treasures' gala auction in recognition of the Duke of Buccleuch, who will receive the 2014 GREAT SCOT AWARD annually bestowed by the National Trust for Scotland Foundation USA at the April event. Mr. Schinderman stated, "Friends and I on both sides of the Atlantic, recall with great pleasure the Duke's hospitality on many unforgettable occasions, as well as his tireless devotion to the National Trust for Scotland." Previous recipients of the GREAT SCOT AWARD have included actor Alan Cumming, publisher Christopher Forbes, and author Alexander McCall-Smith.
The well-documented collection of Scottish pebble jewelry is very special. Many of the pieces are also inset with semi-precious citrines, called cairngorms, which are a variety of quartz with amber tones traditionally mined in the Cairngorm Mountains in Scotland. During the Victorian period cairngorms were extensively used in traditional Scottish jewelry such as kilt ornaments, bonnet brooches, or carved thistle shapes. Local lapidaries in Edinburgh were skilled in cutting and faceting the gems to produce stones of a rich, brilliant orange color that were much esteemed and desired. Large sized cairngorms were particularly prized and often handed down through families. Their popularity led to the local source becoming overworked and these iconic Scottish gems are now rare.
The five lots of jewelry donated by Mr. Schinderman are valued at $4,000, based on the 1998 Sotheby's auction results, however the bidding for some very rare items in the collection, such as one of Brown's kilt pins in the form of a stag's leg with a red hard stone hoof and cairngorm terminal, may surprise the audience at the National Trust for Scotland Foundation USA's charity auction being held on April 9th at The Metropolitan Club in New York City.
The National Trust for Scotland Foundation USA facilitates tax-effective donations from Americans who wish to contribute to the maintenance and preservation of the 129 properties cared for by the National Trust for Scotland. The National Trust for Scotland is Scotland's largest preservation charity. The Foundation is located at 45 School St., Boston, MA, 02108. Phone 617-227-7500 or email info(at)ntsusa(dot)org.