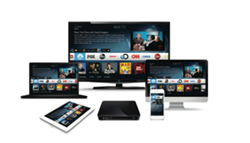 Operators have a cost effective solution available to create new monetization opportunities with 4K and IP delivered services for their high value customers without significant infrastructure investments
Denver, Colorado (PRWEB) March 19, 2014
aioTV, a global provider of OTT middleware used by service providers and content owners to aggregate multichannel, streaming Internet and VOD content into a unified, branded experience across devices, has announced release of PassBox 4K, an application platform that unifies 4K and UHD video delivery in the home along side traditional video and OTT services.
"The problem we are solving is how to get 4K to the TV and do so in a way that leaves legacy as is and unites it all into one EPG experience," said Mike Earle, aioTV CEO. "With PassBox 4K legacy channels stay in tact on the legacy set-top and the 4K comes via IP, all into a seamless unified guide to the consumer.
Delivering 4K to the TV has been the missing link to complete the 4K picture. Subscribers never have to change the input on their TV to access any source of content; multi-channel, OTT or 4K. Operators have a transformative, cost effective solution available to create new monetization opportunities with 4K and IP delivered services for their high value early adopter customers without significant infrastructure investments.
Contact us at info(at)aio-tv(dot)com to schedule a demo of PassBox 4K at NAB 2014.
About aioTV
aioTV is an OTT middleware video platform for service providers and content owners worldwide enabling them to easily aggregate multiple sources of live, on-demand and freely available video content into a single, unified TV experience, under their brand with a consistent multi-screen UI across connected devices. The company's cloud based management platform provides the ability to design, package and control an offering leveraging existing infrastructure, billing systems and DRMs for a quick, seamless implementation.