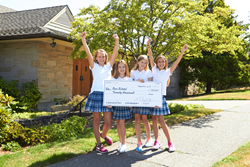 For every new user that signs up with a school on SwopBoard.com, SwopBoard will match that sign-up with a $1.00 gift to that school.
Seattle, WA (PRWEB) March 18, 2014
SwopBoard, a start-up headquartered in the Pacific Northwest, today announced its new matching campaign aimed at fundraising for all U.S. schools – for every new user that signs up with a school on SwopBoard.com, SwopBoard will match that sign-up with a $1.00 gift to that school (for a limited time only). It's simple - if 50 people sign up for SwopBoard at your school, your school gets $50.00 from SwopBoard.
SwopBoard is a new, online community marketplace that allows users to buy and sell items with a portion of each transaction going back to a local school. It's like other peer-to-peer marketplaces that people are already familiar with – an eBay or Craigslist – but schools benefit from every transaction.
It is free to list an item on SwopBoard and users can donate up to 100% of the net proceeds (a minimum 10% donation is required). At SwopBoard.com, users have the opportunity to choose who they buy and sell with – this can be as close knit as one's immediate school community, or as vast as the country. Parents have found these options to be safe and efficient in their quest to find deals on items they need, and to quickly sell their used goods.
"Everything you do on SwopBoard makes money for your school, even signing up!" said Founder Natalie Angelillo. "We hope parents and schools will work together to put the money toward what they need the most – be it iPads, calculators, programming, enrichment, or hot lunches – whatever they think will make a difference."
Parents on SwopBoard use the site as a powerful fundraising tool – they are choosing to donate 46% of their sales to their schools (the minimum is 10%). More than 18 states are on Swopboard, and users from Arizona to Wisconsin have listed thousands of items for sale. SwopBoard offers users intuitive sharing tools to help spread the word to their communities and make even more money for schools. The site has also created an incentivized "Champion" program for parents of any school to serve as a SwopBoard ambassador within the community, sharing the benefits with PTA members and families alike.
In addition to its more traditional buying and selling functions, SwopBoard provides parents and schools with some additional features:

Simple, Fast "I Want" Function. Users can peruse the "Want" list to find items other parents are seeking. When users have something on the "Want" list that they would like to sell, they can easily list that item and auto-connect within their immediate community to those seeking that item.
An Intuitive Selling Experience with Built-In Marketing Tools. Buyers can easily ask questions about a seller's item via SwopBoard's message system. Sellers can simply customize their privacy settings and tailor the school's donation amount on an item-by-item basis. Users can even create video listings directly from their smartphones.
Private Collections at "SwopBoard Boutiques" – Mini shops stocked with great designs, think of "SwopBoard Boutiques" as the ultimate estate sale combined with a fashion editor's top picks. Every collection is different, with one-of-a-kind finds. And, like always, each transaction benefits local schools. Learn more about "Boutiques".
About SwopBoard:
SwopBoard is an online community marketplace that allows users to put the items they have directly in front of the people who need them – in their schools, neighborhoods, and in their cities. Users can buy and sell items in a focused, trusted group of people, with a portion of each transaction going directly to a school on their behalf. Learn more at SwopBoard.com.