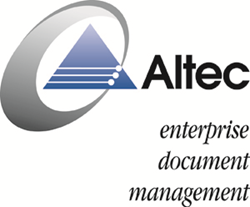 Laguna Hills, CA (PRWEB) April 17, 2014
Altec Products, Inc. announced today their participation in the ITA Spring Collaborative being held April 27 – 29, 2014 at The Fairmont in Dallas, TX. The Information Technology Alliance is an independent, membership association of top mid-market technology professionals, consultants and product/service providers in North America. Their primary goal is to create a community where members share information, build relationships and gather the knowledge they, and their clients, need to move business ahead and stay abreast of the latest strategies and technologies.
These bi-annual meetings are set in a relaxed, collaborative environment to foster relationship building, encourage knowledge sharing and gain market intelligence from other trusted advisors. This year's planning committee has developed another robust ITA agenda with a wealth of takeaways including a blend of workshops, member panels, roundtables, subject matter experts and interactive group discussions.
ITA President Stan Mork shared, "ITA is a place where independent thinking and alternative points of view are openly promoted and respected. We are excited to see our ITA community continue to expand with diverse, new members coming onboard from IT consulting firms to business partners to marketing professionals." He added, "We appreciate Altec's continued commitment to ITA and their involvement in the pre-conference planning."
A four-year ITA member, Altec is the expert in the design and delivery of electronic document solutions ranging from simple document intensive processes to complex restructuring of internal data processing. Their premier solution, doc-linkTM, provides seamless capabilities to electronically capture documents and automate business processes within any department and any process.
April Blankenship, Altec's Director of Marketing stated, "It has been a pleasure to work with other ITA members and contribute in the planning." She added, "As a committee, we have created very strong Consulting and Reselling session tracks for the Spring Collaborative. These tracks range from sales and marketing topics to operational and customer service topics. There is something valuable in store for everyone!"
A new initiative called the ITA Leadership Alliance (ITL) has been formed to attract young leaders with a drive for learning and collaboration. With sessions like "Top Technology Trends Impacting CIO's and IT Organizations," attendees will walk away with new perspectives on today's hottest issues affecting growing companies.
About Altec
Altec is a leading provider of Integrated Document Management (IDM) solutions to mid-market companies. For more than 25 years, Altec has provided a wide range of accounting-centric paper to paperless solutions including its flagship product, doc-link™, which enables companies to capture, archive, workflow and route structured and unstructured documents to customers, employees and vendors. Altec's comprehensive solutions include IDM, output management, MICR check disbursement and paper documents that serve more than 13,000 customers worldwide. Altec enjoys strong, collaborative partnerships with ERP solution providers like Microsoft Dynamics, Sage Software, Epicor and SAP B1 to provide the most comprehensive, integrated enterprise document management solution. Altec delivers its IDM solutions through a global network of authorized partners in more than 60 countries throughout the Americas, EMEA and Asia Pacific. For more information, visit Altec at the company website at http://www.altec-inc.com. Follow them on Twitter.com/doclinkbyAltec or call April Blankenship at 1-800-997-9921.
###