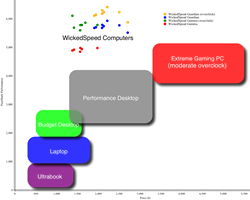 WickedSpeed Computers have achieved rankings in the top 95-99th percentiles among comparable competitors in terms of raw performance and performance/price ratios. This is tremendous news for computer enthusiasts.
Park City, UT (PRWEB) March 19, 2014
The PassMark PerformanceTest ™ enables objective benchmarking of overall PC system performance using a variety of different tests and provides a comparison of the results to other computers. WickedSpeed Computers have achieved rankings in the top 95-99th percentiles among comparable competitors in terms of raw performance and performance/price ratios. This is tremendous news for computer enthusiasts and intense GPU users such as competitive gamers, scientists, and graphic artists.
WickedSpeed Computer configurations generally range from $1350 to $3000 and can be purchased on Amazon or via the WickedSpeedComputers.com website where the company provides savvy customers with the opportunity to pick the components they want. Despite this relatively low price tag, WickedSpeed Computers consistently beat out mass market competitors, delivering the performance of an extreme gaming PC or graphics workstation for the price of a performance desktop PC.
How this PC "David" beats the PC "Goliaths"
WickedSpeed can't compete with low Chinese labor rates and the volume discounts available to the Chinese factories used by most major US, Japanese and Taiwanese brands such as Apple, Dell, HP, Lenovo, ASUS, Acer, Sony, and Toshiba. WickedSpeed's source of competitive advantage comes from smart selection of parts based on performance-to-price calculations, a huge emphasis on future upgradability, and attractive cases. It uses highly rated retail parts and sells primarily to PC enthusiasts, who are self-sufficient enough to go straight to the motherboard manufacturer or NVIDIA for the latest drivers, software, and specialized support when necessary.
"Yes, competitive computers can be made in the U.S., if done intelligently, and targeted at sophisticated buyers," said Luke Ashworth, COO of WickedSpeed. "We strongly encourage all of our customers to add a solid state drive (SSD) to their configuration. Customers who use a solid state drive for the first time are blown away by how much faster their PCs run. We find that many of our customers considered building their dream computer themselves but found we build the computer they wanted to build, without the hassle."
WickedSpeed also strives to extend the longevity of the PC. "We believe you should own your computer for six years, upgrading it as necessary in your roomy, attractive metal case with a large power supply," said Mr. Ashworth. "We offer an alternative to the throw-away plastic mentality of other PC manufacturers." The WickedSpeed target market of computer enthusiasts is poorly served by mass market computers. "They want the speed, aesthetics, and upgradability that only a hand-built PC with high grade parts can deliver. The proof that this market exists is the huge market for built-it-yourself components and the tens of thousands of enthusiasts who take such pride in their home built PC."
For customers looking for an enterprise class 4U GPU workstation/server, WickedSpeed also offers very attractively priced Supermicro based systems on a custom built basis.
Target Market Testimonial
WickedSpeed is targeting serious PC users like Charles La Page, a 3D artist and happy WickedSpeed customer, who recently wrote the following letter to WickedSpeed. You can Google Charles' resume and view his videos and work samples online at http://vimeo.com/81740774:
"The WickedSpeed Illusion is everything I could have hoped for in a computer. I am a visual effects artist, who needs maximum performance out of my machine in order to complete complex projects in a timely manner. I recently bought a WickedSpeed Illusion when I ran into a computing bottle neck on my last project. I had thought of building my own computer, when I stumbled upon WickedSpeed. They had several machines with the components that I was looking for, and they had already found other great additional hardware, at an even more desirable price.
I have had the luxury of working on many fantastic computers at studios around the country, and the Illusion handles my workload better than the majority of the high end machines I have used. More importantly, the computer was all the performance I wanted (and more with the NVIDIA GTX 690) for the price point by which I was bound. Thanks to this machine I am able to work from home on big name projects. I find it handles fluids and particle simulations from Maya, high density Mudbox meshes, and very complex Nuke scripts (4k red footage, 3d compositing, relighting, z blur and all the necessary flair) incredibly well. You can see images from projects I have in progress using Maya, Vray, and Nuke on my WickedSpeed computer online.
I would like to add that, in addition to building a great machine, WickedSpeed has amazing customer support. I needed my computer immediately, and they delivered. They have built me a computer that is expandable/upgradable to my every need. I could not be happier with the product, or the company.
Thank you WickedSpeed!"
Test computers available for short-term lending to serious journalists-testers.