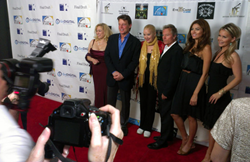 A Must Attend Event. Barry Goldberg Two Time Grammy Nominee
Los Angeles CA (PRWEB) March 18, 2014
Rock N Roll, Yahoo, Vampire Diaries, Sabrina, Financial Literacy & Producers
The 5th Annual New Media Film Festival is proud to announce the following prestigious musical opener & panelists for the 5th New Media Film Festival June 10 & 11th 2014 in Los Angeles CA. These individuals have been chosen for their progressive attitudes and ideas for the future. A Must attend event as they have sold out in previous years.
ROCK N ROLL - Announcing the opening musical act at the 5th Annual New Media Film Festival will be J.P Hopfelt, a rock/blues duo with members Jimmy Steinfeldt and Pete Hopkins. Their music has been described by Bob Dylan Guitarist, Ira Inger as: "...The party that you didn't get invited to, but wished you had." The Performance will begin Opening Night, June 10th 2014.
PANEL 1 June 11th 2014 WEDNESDAY 11:00 AM
The Who, What, Why & How of New Media - How has the paradigm shift to digital effected content creation? Who are the ultimate winners? Studios, Consumers, FilmMakers? What's next? How do you get your story out there?
DAVID USLAN - Panelist
Vice President of Development for both Batfilm Productions and Branded Entertainment. David's production credits include Batman Begins, The Dark Knight, The Dark Knight Rises, Constantine Catwoman, National Treasure, The Spirit, the upcoming Doc Savage and many more. Currently in production on Sabrina: Secrets of a Teenage Witch.
JANINA GAVANKAR - Panelist
Since Janina's music video screened at last years New Media Film Festival, Janina has acted in several projects including the Vampire Diaries, Think Like a Man Too, The White Orchid, and Love Is Dead. Other past acting credits include The League, True Blood, Arrow, and The L Word. She is back to share New Media navigating tips.
PANEL 2 June 11th 2014 WEDNESDAY 3:00 PM
Experts Discuss Distribution & Financial Literacy for New Media Content
This panel will focus on new avenues to monetize content, new platforms that are being launched to interact and monetize on a global scale. Examples of new and developing ways to get your content made, sold and seen. The convergence of TV to Web and Social Media for the people creating New Media today.
ELEANOR MULVANEY SEAMANS -Panelist
Mrs. Seamans is the Chief Executive Officer at Seamans Capital Management, which is a boutique investment advisory firm specializing in clean energy and resource investments. Mrs. Seamans is responsible for the Firm's strategic growth and organizational structure. She has more than 20 years of experience as an organizational consultant in financial services, working primarily with senior corporate leaders and entrepreneurs to translate vision into organizational effectiveness and profitable performance. Mrs. Seamans received her BA from Emmanuel College and her MS from Simmons College in Boston, from which she graduated summa cum laude.
BONNIE PAN - Panelist
Senior Director & Head of Programming, Yahoo Screen
Bonnie leads the content development, editorial and international distribution teams for Yahoo Screen. Bonnie is responsible for bringing critically acclaimed shows to life on Yahoo including the 2013 Fall Comedy Lineup, Saturday Night Live clip archive and Burning Love Seasons 1, 2 & 3. Additionally, Bonnie leads the Yahoo Video Lab and a team dedicated to new formats that is focused on how digital storytelling is changing the landscape of entertainment and content development.
Moderated by acclaimed producer Bill Jarblum. Bill is the founder and principal of Jarblum Entertainment Group which has produced such films as Cloudburst, Faded Memories, and Little Traitor.
New Media Film Festival is accepting submissions through May 1 2014 and locking their programming May 15th 2014. Each submission is considered for Screening, Distribution & Competition ($45k in awards) in 20 categories.
Judging by Pixar, Fox, The Caucus and many other Industry Leaders,
June 10 & 11th 2014 Los Angeles CA. 5th Annual New Media Film Festival - The Best in New Media-What's New, What's Next...Honoring Stories Worth Telling in all media that are innovative, imaginative and inspirational. Stories that can make you laugh, cry, think & go beyond the ordinary.
New Media Film Festival intersects the interactivity of new technologies & formats for Media & Cinema which exemplify the power of the cinematic arts to inspire and transform. A festival where we Honor Stories Worth Telling that are created by people of All Ages-All Cultures-All Media.
"Makes the cutting edge accessible."- Huffington Post
"Worth the entry fee." – Movie Maker Magazine
IMDB Bio: http://www.imdb.com/name/nm0426856/?ref_=fn_al_nm_2
Founder/Director – Susan Johnston is an Award Winning Producer and is a Global Speaker on New Media, Social Media & Incremental Monetization in the Digital Space. She will be speaking at NAB on April 9th at 3PM in Vegas.