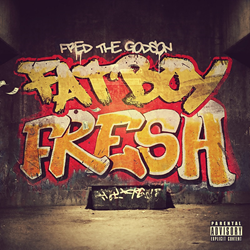 New York, NY (PRWEB) March 18, 2014
Coast 2 Coast Mixtapes announces the release of the "Fat Boy Fresh" mixtape by Fred The Godson. The 17-track project is currently available for download. The mixtape features appearances from Bad Lucclisten, Vado, French Montana, Masspike Miles, Raelis, Dizzy Wright, Chevy Woods, Tyler Wood, Main Man, Mally Stakz, Bam Vito, Cory Gunz, Reef Hustle, and Jaquae as well as production from Boy Boy, Rick Hertz, Masspike Miles, Base Beats, J Quest, Eboniks, FREAK, Sarom, Mr Authentic, Sunny Heights, and S Dot : Pro.
Fred the Godson is an emcee from the gritty South Bronx ghetto of New York. Seeking refuge from the drug wars that ravaged his block of 156th & Fox, Fred turned to his family but could not escape the desolate living conditions of the ghetto. Finding himself in a shelter after watching his house burn down Fred's trials and tribulations as a child would provide him the determination to conquer all obstacles that prevented him from achieving his goals. Reaching a low point in his life after failing to graduate high school due to the temptations of the streets, Fred also found out he was diagnosed with Kidney disease, Asthma, and Diabetes. Fred found salvation through the one thing that brought him joy and happiness, music.
Fred's first experience being moved by Hip Hop was at the age of 15 years old when he became mesmerized watching MC Hammer perform. Inspired by his ability to control the audience and his showmanship Fred soon discovered he too had the ability to entertain the masses with his talent for wordplay and storytelling. Combining his natural love for music and potential to achieve lyrical greatness, Fred integrated music into every aspect of his life fine tuning his craft to become the master of lyrical composition of which he is known as today.
Inspired by Jay-Z, Fred began to build a catalog of songs that would rival the greats showcasing his witty punchlines and the realities of the streets of New York city all delivered with a cool and calculated flow. Distinguishing himself from other up and coming artists with his ability to deliver raw messages in a relate-able and appealing manner Fred has managed to draw attention from most of the main players in the industry including Roc-a-fella, Def Jam, Shady, Sony, Bad Boy, Ruff Ryders and Loud (SRC). Recently purchasing a studio, inventing in promotions, and building a powerhouse team around himself, Fred is positioned to be the next to break and with the help of T.B.M. Entertainment and Draft Entertainment exclusively working to get his music to the general public success in inevitable.
Fred the Godson's two hugely acclaimed mixtapes, "They Call Me the Flow" and "American Gangster", along with his well received performances at Sob's, Don Hills, Temple, and opening up for Interscope artist Rich Boy has aided in his co-signs from by Riggs Morales of Shady Records, Super Producer Clark Kent, Dee & Waah of Ruff Ryders as well as Til Welch of Virgin. With the industry behind him Fred's catalog features production from the best producers in the game such as Sha Money XL, Reefa, Sean C & LV, Heat Makerz, Rockwilder, Buck Wild, Justice League, Charlamaine, Amadeus, Scram Jones and Teddy Riley to name a few.
Fred the Godson's most recent mixtape, "Fat Boy Fresh", is a testament to his predisposition to create hits through his clever flows and authentic messages as he penetrates the psyches of his listeners with his real life experiences. The mixtape showcases Fred's unique versatility and lyrical superiority, engaging all who hear his music in a way that not only provides a genuine vibe but also generates a personal connection between the listener and the music. Listen to "Fat Boy Fresh" for yourself and you will agree that Fred the Godson is exactly what is needed in the Hip Hop game today. Keep up with Fred the Godson on his Twitter page at @FREDTHEGODSON.
About Coast 2 Coast Mixtapes
Coast 2 Coast Mixtapes are the most widely distributed mixtapes in the world, with over 100 million downloads/plays generated by over 200 volumes officially hosted by major artists. Coast 2 Coast has a solid reach in the new music industry with a digital magazine, DJ coalition, industry tips blog, yearly convention, and more. Coast 2 Coast Mixtapes represents a unique opportunity for artists of all urban genres, from major to indie. For more information, visit http://www.coast2coastmixtapes.com.