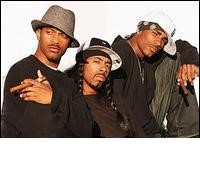 I never gave up hope~Ahmad 'Real' Givens.
LA, California (PRWEB) March 19, 2014
This month marks the one year anniversary of the former 'Real Chance of Love' star, Ahmad 'Real' Givens devastating diagnosis of stage 4 colon cancer. He and his brothers (Kamal 'Chance' Givens and Micah Givens) who are also his group members, known as The Stallionaires are celebrating by releasing their new single and video titled 'I'm Bad', a song that clearly expresses the victory of a fighting spirit.
March of last year we learned the heartbreaking news that Ahmad had been diagnosed with stage 4 colon cancer and doctors had given him one month to live. But after several months of chemotherapy treatments, changing his diet, and as he says, by the Grace of God, he beat all odds.
A little over a couple months ago (Dec. 2013) the reality star finally went in for the surgery to save his life. The surgery was a success removing the main cancerous tumor from his colon. A few weeks after the surgery, Ahmad started experiencing numbness on the right side of his body. When he went back to the doctor they ran tests and found out that after opening his body up from the surgery the cancer tumor had spread to the left side of his brain. The tumor was small but enough to damage the nerve on the right side of his body. Ahmad immediately underwent another procedure called Gamma Knife radiation to kill the brain tumor. The procedure was a success and he has gotten all the feelings back to his body. It is estimated in about six months his cancer should be in total remission. Ahmad declared, "Nothing is impossible when it comes to God Almighty."
Shortly thereafter, he didn't hesitate getting back to work with his brothers to complete their new album. The new single and video 'I'm Bad' proclaims the state of mind of Ahmad considering he conquered cancer after they only gave him one month to live. The 'I'm Bad' video is currently on YouTube and on its way to being released to video networks, so be on the lookout.