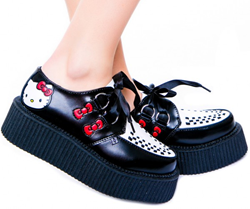 These are my favorite shoes ever.
San Diego, CA (PRWEB) March 19, 2014
"My Hello Kitty Creepers. These are my favorite shoes ever my sister will try to steal them I will stop her with brutal force NO!", Lady Gaga posted on LM this past Saturday.
Her Mondo Creepers are from the super limited edition T.U.K. x Hello Kitty shoe collaboration.
These classic black and white leather rounded toe creepers feature Hello Kitty face, contrasting woven interlace detailing, and glossy satin (or cord) laces thru d-rings with red bow accents.
T.U.K. also just release a preview video of their Fall '14 Creeper Collections, see it here: https://www.facebook.com/officialtukfootwear.
About T.U.K. Footwear:
Since their start in 1991, the San Diego, CA based footwear company T.U.K. has been creating bold, original footwear for men and women. Footwear made for and inspired by bands, music fanatics, fashionistas, and individuals with eclectic tastes. With their huge range, from traditional classics to modern upstarts, they are constantly providing creative style with an original edge.
For more information, please visit http://www.tukshoes.com.