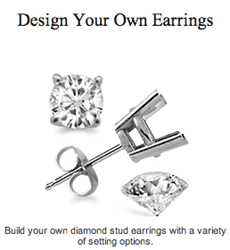 New York, NY (PRWEB) April 01, 2014
Allurez Diamonds & Fine Jewelry, of New York, NY, places the April birthstone, the dazzling diamond, center stage this month. Customers can enjoy savings on select settings, company executives announced recently. Further, the Allurez diamond jewelry inventory is vast, allowing shoppers to choose a style, size, and setting from their diverse collection of conflict free diamonds that is just right for them, all at an affordable price. Diamond jewelry found in this month's birthstone celebration includes earrings, engagement rings, eternity rings, bracelets, pendants and cufflinks. Plus, styles are available in both classic and contemporary designs.
Revered for its ability to refract and reflect light, the diamond has been prized throughout the centuries for its spectacular brilliance. Symbolizing the flames of love as well as its remarkable endurance, the diamond's crystallized carbon makes it the toughest gemstone on earth, conveying strength and a fiery light not found in other precious gems. Born of intense heat and pressure below the earth's crust, the diamond is found in volcanic rock, although it sometimes appears in riverbeds as well. From the Middle Ages when diamonds adorned swords, crowns, and jewelry up to modern times, April's birthstone legacy has long been highly valued in most cultures.
Given the diamond's phenomenal qualities, Allurez.com is proud to promote its April birthstone throughout the month with stunning earrings, cocktail and eternity rings, engagement rings, as well as bracelets, pendants and cufflink options from which to choose. Delicate and diminutive diamond settings are available with larger carat size settings also available at heavily discounted prices, some as great as 50% savings.
About Allurez.com:
Operating as an innovative and robust designer and retailer of high quality exceptional jewelry from the heart of NYC, Allurez is recognized for providing the largest selection of designer jewelry for men and women including engagement rings, wedding bands, earrings, bracelets, necklaces, pendants, and certified loose diamonds. Crafted using the finest metals and gemstones, the company provides custom made jewelry for the royals, the rich and famous, as well as customers seeking the finest jewelry available on the market today. With award winning customer service, unbeatable prices and superb products, the Allurez.com offers a 100% satisfaction guarantee, unparalleled in the industry.
For additional information about dazzling diamond birthstone jewelry, please contact http://www.allurez.com or call 1.800.554.3509 for details.