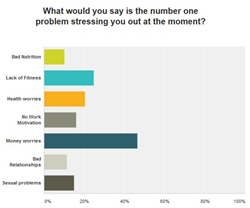 What concerns me is that I am sure that these statistics hide a huge number of men over 45 suffering in silence, in quiet desperation. It's these people we think we can help.
(PRWEB) March 26, 2014
It's a bit of a taboo subject but suicide rates are soaring for middle aged men in the US and the UK.
Recent statistics quoted in the New York Times show that the suicide rate for middle-aged men is now 27.3 deaths per 100,000, while for women it was 8.1 deaths per 100,000.
These problems are not confined to the US. Recent studies reported in the British newspaper, The Telegraph, in February have found that those born in the 50s and 60s are now twice as likely as the rest of the population to commit suicide.
This shift has largely been attributed to the economic recession; a key stress factor (money worries) cited by the majority of respondents in a new survey conducted by Double Your Wellness. The same generation of men are also struggling with changing gender roles, families and patterns of social relationships and the decline of traditionally male industries according to the Telegraph article.
Double Your Wellness commissioned an online survey of over 500 men over the age of 45 in an effort to identify the most stressful problems currently experienced by that age group. The survey, carried out over the months of January and February, offered seven types of problems to choose from, ranging from relationship issues and low motivation at work to bad nutrition.
Because of the economic problems it's no surprise that the overwhelming majority cited money worries as their number one pain point, a sizeable number named lack of fitness (24.83%) and health worries (20.42%) as the most stressful problems facing them. Just over 15% of those surveyed chose no work motivation and sexual problems as the number one cause of stress in their lives and 10% cited bad relationships.
DoubleYourWellness founder and CEO John Green explains: "We know the recession has made things difficult for everyone and this survey and the suicide statistics illustrates how stressful it is right now for men over 45 specifically. What concerns me though is that I am sure that these statistics hide a huge number of men over 45 suffering in silence, in quiet desperation. It's these people we think we can help. I believe the video training program at DoubleYourWellness.com can help to tackle a range of problems being experienced by men over 45. It details tried and tested strategies, from experts in their fields. So these guys over 45 can get back on track and start enjoying life again."
To help alleviate these problems Double Your Wellness created a new step-by-step online video training course featuring advice from experts and a also featuring a support community forum. All of which has been designed specifically for 40, 50 and 60-something men, a group including those often referred to as Baby Boomers and Generation Xers.
Double Your Wellness is currently offering some free training videos to immediately help relieve stress and also for a limited period a free 30 day trial. The trial includes access to all 45 videos for the 4 part, 6 week training program, as well as access to the online community.
Sources:
1. Suicide 'generation' fears for middle aged men, The Telegraph, 18th February 2014: http://www.telegraph.co.uk/news/uknews/10647018/Suicide-generation-fears-for-middle-aged-men.html
2. Suicide Rates Rise Sharply in U.S., New York Times, May 2, 2013: http://www.nytimes.com/2013/05/03/health/suicide-rate-rises-sharply-in-us.html
About Double Your Wellness
DoubleYourWellness.com (http://www.doubleyourwellness.com) is a site offering a 6 week online video course featuring advice on fitness, nutriton, motivation and relationships from leading experts. The program has been specifically tailored to help men over 45, overcome a range of common but often debilitating mid-life problems.