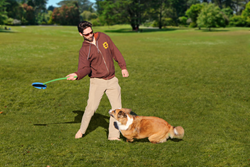 El Segundo, CA (PRWEB) March 18, 2014
Real Innovators launched its two latest products – Fetchbee and Tabby Tamer on March 12-14, 2014 at the Global Pet Expo in Orlando Florida. Both products were well received and featured in the New Products Showcase at Global Pet Expo.
Fetchbee's patented designed "throwing arm" and innovative disc allow the user to throw the disc without actually having to touch the slobbered disc. The arm simply clips on to the disc from any orientation and provides the user an easier way to throw the disc further than your traditional disc. It's great fun for both dogs and their owners.
The Tabby Tamer is a safe and effective aid used while grooming or giving cats medicine. The clip is designed to simulate the same sensation as scuffing a cat. Using the Tabby Tamer not only calms the cat but frees up the hands to make cutting the cats nails or giving medicine a breeze.
About Real Innovators
Real Innovators is an environmentally-conscious company devoted to creating innovative products that make life easier. Real Innovators has several new products that will be launched in 2014.
Contact
Real Innovators
2321 Rosecrans Avenue, Suite 4265
El Segundo, CA 90245
888-281-8780
info(at)realinnovators(dot)com
http://www.realinnovators.com