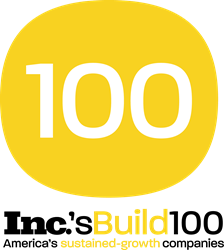 "It's a remarkably difficult standard to meet" said Inc. Executive Editor Scott Leibs: "Fewer than 1.5 percent of companies made the cut."
Seattle Washington (PRWEB) March 19, 2014
Inc. Magazine announced that Strong-Bridge Consulting is a member of The Build 100, the only full service consulting firm to make the list.
Members of The Build 100 are an elite group of companies that experienced sustained growth while adding head count for five consecutive years, from 2007 to 2012 – a period during which the country experienced one of the worst economic recessions in history. "It's a remarkably difficult standard to meet" said Inc. Executive Editor Scott Leibs: "Fewer than 1.5 percent of companies made the cut."
To better understand why so few companies manage to grow consistently, Inc. economist-in-residence and consultant Gary Kunkle launched a research study of more than 100,000 U.S.-based midsize businesses (those with 85 to 999 employees). "72 percent of all new U.S. jobs are created by 1 percent of companies," says Gary Kunkle. "The Build 100 represents that top 1 percent of that 1 percent. They should be celebrated, but they must also be studied so that we can better understand — and replicate — the decisions, priorities, investments, and strategies that helped them grow."
In comparing the Build 100's long-term performance with that of a larger universe of similar-size companies, the only statistically significant predictor of a company's future success is steady growth. "It's akin to Aesop's tortoise and hare story," Kunkle says. "Slow and steady wins the race. Incremental advancement, repeated over time, achieves greater results. That said, Build 100 companies grew, on average, 35 percent annually during the five years studied."
"It is an honor to be among the Build 100 companies, states Ken Simpson, Strong-Bridge Co-Founder, Co-CEO. "The study identified companies who know how to create a vision, inspire their employees, innovate effectively, and maintain very close ties to their customers. We have never wavered on doing what's right for our employees and our clients and it's nice to see that resulting in our membership in The Build 100."
The Build 100 List
Methodology
The Build 100 is not ranked. To qualify, companies must have been founded and generating revenue by December 31, 2008. They had to be U.S.-based, for profit, and independent — not subsidiaries or divisions of other companies. The minimum number of employees for 2013 is 85; the minimum 2012 revenue was $8.5 million. All Build 100 companies must also agree to participate in a year-long research initiative studying the drivers of sustained growth. Companies on The Build 100 will be featured in the March 2014 issue on the affiliate website TheBuildNetwork.com.
.
About The Build Network
Founded in 2011 by two longtime editors of Inc., The Build Network is a management enterprise within Inc. that studies and serves sustained-growth companies with a special quarterly print section, a dynamic web site, live events, research endeavors, and The Build 100 index of sustained-growth firms. For more information, visit thebuildnetwork.com.
About Strong-Bridge Consulting
Strong-Bridge LLC is a management consulting firm that provides strategic leadership and executional excellence for organizations ranging from startups to Fortune 100 corporations. Working side-by-side with clients in technology, telecom/ mobile, healthcare, retail and travel, Strong-Bridge helps businesses generate results through customer experiences that are optimized for their industry. Specific areas of Strong-Bridge Consulting expertise include:

Pragmatic Strategy
Experience Design
Product Management
Technology Solutions
Performance Management
Program Leadership
Strong-Bridge Consulting has completed hundreds of strategic and executional engagements with clients such as T-Mobile, Microsoft, Starbucks, AT&T Mobility, Expedia, Vera Bradley, Rogers, GCI, and University of Washington Medicine. Strong-Bridge Consulting has more than 130 professional consultants in Seattle and Toronto, and has been listed repeatedly on multiple fastest-growing and best places to work lists.