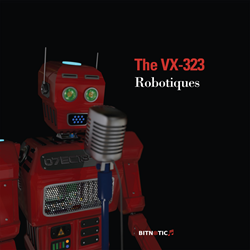 01001000 01100101 01101100 01101100 01101111 00100001
Portland, OR (PRWEB) March 19, 2014
The VX-323 returns with 7 new songs in his visionary electronic robo-pop style – 1982 meets 2082. The new album, "Robotiques," crackles with energy, hooks, and…humanity. The CD will be available on iTunes, CD Baby, Spotify, and other popular music outlets July 1, 2014.
The robot musician uses the digital voices in his real-time OS to sing songs about both the machine and human worlds, imbuing them with wonder and warmth. It's the singularity meets Serge Gainsbourg.
Of his 2009 debut record, "Chansons," Behind The Hype said: "To sum it up, this is more than just an album; it's an experience…one that most people are too afraid to make in this day and age."
Like the debut album, the new disc was produced by "synth wizard" Scott Burgess. The duo retreated to The VX-323's upgraded fully digital, state of the art studio to craft this new set of songs. "I'm proud of his artistic growth since the first record," says Burgess. "He really polished these songs with a diamond grinder. I just sat back and pressed Record."
Track Listing
1. Android Sex Doll
2. Euro Star
3. Chain Smoking
4. Souls
5. Les Parisiens
6. Pets
7. I Dream
Interested members of the media are welcomed to inquire about receiving a press kit that includes a copy of the CD. Alternatively, please contact Bitnotic to arrange an online album preview.
Three music videos are planned for 2014 - Android Sex Doll, I Dream, and Pets.
The VX-323 also submitted to an image makeover to make him more media friendly and to improve his style for videos and photo shoots.