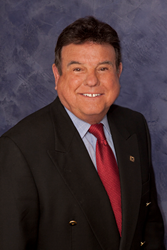 Think of the first 'no' you hear as nothing more than a potential detour.
San Jose, CA (PRWEB) April 08, 2014
Looking for essential strategies to keep a sale moving forward? Now you can advance the sale even when buyers say no!
Even the best sales professionals hear the word "no" more than they would like. Most take this as their cue to pack up and move on, but leading sales authorities Tom Hopkins and Ben Katt point out that "no" may suggest all sorts of other options and avenues that can eventually led to the buyer actually saying yes.
In WHEN BUYERS SAY NO: Essential Strategies for Keeping a Sale Moving Forward, Hopkins and Katt explain that there are subtle but powerful strategies to be implemented after a potential buyer turns down your initial approach. They explain that most sales reps take a traditional linear approach to selling, but that the trick in closing is in taking a more creative and circular approach, which they call "The Circle of Persuasion."
Tune in to CONNECT! Online Radio for Selling Professionals to hear directly from Tom Hopkins about the Circle of Persuasion and the steps that will help you cultivate connections with your buyers -- even the ones who initially say "no." Over 4 million sellers have attended workshops and seminars conducted by Tom Hopkins, and CONNECT! listeners will be able to talk with him live, on air, about his newest book and research.
CONNECT! is the radio show that helps sellers cut out continuances, put an end to pending and stop stalling out by forming stronger connections with their buyers. To call in live during the broadcast, dial 1-347-202-0896. You may also use the live chat feature during the broadcast or e-mail your questions in advance to your show host, Deb Calvert, president of People First Productivity Solutions.
Tune in weekly to this powerhouse radio program for sellers. Sales experts from around the world appear live on CONNECT! to answer your questions and help you tackle your toughest selling challenges. For a full list of upcoming guests and links to archived recordings, visit the CONNECT! Online Radio web page.
People First Productivity Solutions was founded in 2006 by Deb Calvert, author of DISCOVER Questions™ Get You Connected.