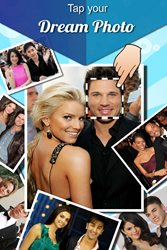 Selfie with today's hottest celebrities in less than a minute!
(PRWEB) March 24, 2014
Ellen DeGeneres overwhelmed Twitter when she took a selfie with some of the biggest stars in Hollywood at the Oscars earlier this month, but with the new DreamSelfie app, people do not need to go all the way to Hollywood to take star-studded selfies of their own. Selfie enthusiasts can take pictures with their favorite stars or as them, or they can use the app to take selfies that make it look like they are walking the red carpet, sky diving, boxing, or even winning the Olympics – anything they love doing or wish they could. This app makes it possible for anyone to snap all the selfies of their wildest dreams.
DreamSelfie is the perfect app for anyone who wants to look like a celebrity, or take a picture with a celebrity. Everyone has a favorite star that they dream of one day being able to meet. DreamSelfie has a special feature that makes it possible to create pictures with today's hottest and most famous celebrities, all without even having to leave home. With the help of this unique and magical app, they can embrace their dreams and take creative snaps with any star, whether they are an athlete, musician, actor, or just famous for being famous.
This app guarantees extraordinary and high quality celebrity selfies that users will surely be proud of and want to share with the world. Rather than only drawing from a small preset list of celebrities or activities, DreamSelfie allows users to search for just about anyone or anything they can think of. The app even includes essential makeup and photo effects, allowing users to enhance their selfies by applying "foundation," brightening their skin, and more. Anyone can take a dream selfie and impress the world with DreamSelfie.
Another important feature of the app is that it allows users to save and share their magical photos with their friends and loved ones on Twitter, Facebook, WhatsApp, Flickr, Instagram, and many other social media platforms. Not only does this app provide users with magnificent photos, but it also offers a means of keeping their social lives on track with the joy of photo sharing.
"My 9 year daughter always wanted to meet Selena Gomez and take a picture with her, but until I found DreamSelfie I had no idea how to make that happen. I used this app to create a picture of her with Selena, and she loved it! Now she is constantly creating photos with all of her favorite celebrities," said one user named Susanne.
The DreamSelfie app offers impressive features that guarantee great results and an unrivaled user experience. It is available in English, Spanish, Russian, and six other languages to cater to selfie enthusiasts around the world. Interested readers can get this app free online and see for themselves what it has to offer.
iOS App Store Download:
https://itunes.apple.com/nz/app/dreamselfie/id794653535?mt=8
Google Play Download:
https://play.google.com/store/apps/details?id=globestarent.dreamselfie
For more information about DreamSelfie and its features, feel free to visit http://www.DreamSelfie.com. Inquiries can be emailed to BringSmile(at)DreamSelfie(dot)com.