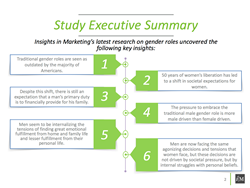 Insights in Marketing research finds that while women have found an accepting spot outside of the home, men are still struggling with their own roles.
Chicago, IL (PRWEB) March 18, 2014
The question to ask today isn't just "Can women have it all?" It's "Can men have it all, too?" A new study by Insights in Marketing, LLC (http://www.insightsinmarketing.com), a research- based marketing consultancy in the Chicago area, reveals that the expectations and roles of both genders are shifting. While the majority of women are returning to the workplace and more men are choosing to stay home with the family, many men are facing the same stigmas and struggles that women have faced for years.
"Our latest study has revealed some important findings that show just how wrong our gender stereotypes are," said Tinesha Craig, division director for Insights in Marketing. "While women have faced a number of struggles to get a foothold outside of the home, and there's still a long road ahead, we're at a point where society truly accepts, and even expects us to be a part of the workforce.Men, on the other hand, are actually the ones struggling now, as they try to find their balance between work and home. Society has, for years, viewed men as only caring about their career. Our research shows that what's also important to men is family and their role as provider."
Insights in Marketing surveyed 1,800 women and 1,800 men ages 18 to 67 to better understand the perception of gender roles and family dynamics. The research revealed that 53 percent of people in the U.S. believe that traditional ideas of masculinity and femininity no longer apply in today's society, and that belief is shared equally by both genders. Today, about 25 percent of people still believe that a woman's primary duty revolves around taking care of her home and family, and 71 percent of mothers are employed (68 percent of those are married). That number has skyrocketed from 37 percent of moms working in 1968. That work-family balance has also led to an increase in stress in women: 51 percent of women report feeling stressed, versus 40 percent of men.
When it comes to the roles of men, 49 percent of people say they believe that a man's primary duty is to financially provide for the family. Oddly enough, it's men putting the most pressure on themselves: 57 percent of men feel that way, compared to 41 percent of women. The researchers honed in on this point to try and understand why men feel this way. The results showed that men care more about their family than society has often credited them. In fact, 75 percent of men stated that their first obligation is to their home and family, and only 48 percent feel that career gives their life purpose.
The survey also found that:

80 percent of women believe that parents are completely responsible for raising a child, compared with 76 percent of men
55 percent of women and 30 percent of men say they are completely responsible for child care
60 percent of men are more likely to say they share responsibility with someone else
More than 70 percent of men and women agree that child care responsibilities have not changed much in the past year
To learn more about this study and others, please visit http://www.insightsinmarketing.com/resources/iim-research.aspx.
About Insights in Marketing, LLC:
Insights in Marketing, LLC (IIM) is a research-based marketing consultancy dedicated to maximizing your brand's impact by providing a complete consumer understanding. IIM's experienced consultants deliberately leverage qualitative, quantitative and psychology-based research approaches that start with the consumer and offer a definitive roadmap for success. For more information about IIM, visit the IIM website, blog, LinkedIn, Facebook page and Twitter feed.