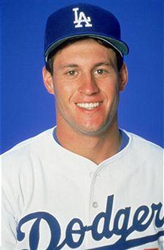 GJ Reynolds said, "Steve truly sees his mission and vision of his business. This is why he is a successful entrepreneur."
Los Angeles, CA (PRWEB) March 25, 2014
Co-host, entrepreneur, Vi 5 Star Ambassador and Vi Millioniare GJ Reynolds and co-host Neil Haley, The Total Tutor, interviewed former Los Angeles Dodgers second baseman Steve Sax to find out about life after baseball and his latest business ventures.
Drafted by the Los Angeles Dodgers in in the ninth round of the 1978 Amateur Draft, Sax made it to the major leagues in late 1981. By 1982 he officially became a starter for the Dodgers and was voted National League Rookie of the Year. A 5-time All Star, Sax stole more than 40 bases in six different seasons and finished his career with a total of 444 stolen bases. He also set the Yankees team record for most singles in a season with 171 in 1989. Sax has two World Series rings, both with the Los Angeles Dodgers in 1981 and 1988.
On the Simply G Radio Show, Sax revealed that after his baseball career he's held many positions, including financial consultant, broadcaster and motivational speaker. He is currently a broadcaster for the MLB network, as well as an entrepreneur online life coach.
"I have always been a high energy person," said Sax, who shared why he wanted to be an entrepreneur. "I wanted to help people in there daily lives. "
In his venture as a life coach, Sax said that he feels that the client has all the power. "I work as a partner when I coach. I help guide to help reach their goals." When discussing the process of his online coaching, he said that the clients can see him but he cannot see the clients.
In 2010, Sax wrote his book Change Your Mindset and You Change Your World, which talks about putting a positive nature on how people approach issues. The book was endorsed by entrepreneurial mogul Donald Trump.
"Success is a choice," Sax said. "People author their own circumstances and your circumstances will be altered by the way you think."
GJ Reynolds said, "Steve truly sees his mission and vision of his business. This is why he is a successful entrepreneur."
For more information on Steve Sax, you can go to http://www.stevesax.com. You can also listen to the interview now by going to http://www.simplygmedia.com.