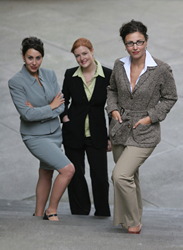 It's time for women to dive-in, head-first, and heart-strong.
Irvine, California (PRWEB) March 18, 2014
As Women's History Month reaches its midpoint, this year's theme, "Women's Education – Women's Empowerment," fits right in line with the Glenn Llopis Group's (GLG) latest professional development training, Women Leaders Must Dive In, Not Just Lean In; Discover Your Full Potential Leadership Workshop, slated for July 10th in Irvine, California.
"It's time for women to dive-in, head-first, and heart-strong," explains GLG Chairman, Glenn Llopis, a Forbes contributing business leadership writer, former C-suite executive, and entrepreneur. "Women must actively deploy their unique ability to see with wide-angle vision and sow opportunities with a passionate pursuit – as do all great pioneers that change the status quo and build new bridges."
As of July 2013, there were only 18 female elected presidents and prime ministers in power around the globe. In the business world, women currently hold only 4.6 percent of Fortune 500 CEO positions and the same percentage of Fortune 1000 CEO positions. As women continue their upward trajectory in the business world, they have yet to be fully appreciated for the unique qualities and abilities they bring to the workplace.
"There is a women's leadership movement afoot that needs to transition from underground grassroots to mainstream establishment," adds Llopis, who will facilitate the one-day workshop in July. "This isn't about goodwill, preferences, or representation. Mobilizing women into leadership positions is mandatory for sustainable economic growth, global competitiveness, and innovation across all industries."
The highly-interactive, one-day learning experience will take participants through a journey of self-discovery and will provide women executives with the tools and resources to ensure they continue to grow and develop well after the workshop. The ultimate goal is to help participants discover their personal brands as leaders and learn how to best leverage them to increase leadership engagement, high-performance capabilities, and overall contributions to their organizations' missions, goals, and values.
As a result of GLG's intensive training, participants will:

Seamlessly deliver the most genuine executive presence that represents who one is and what one stands for.
Align one's leadership role and responsibilities to more authentically amplify and create greater impact and influence.
Create one's leadership brand value proposition and learn to deliver its distinction using 3 critical communication strategies.
Manage one's leadership brand by continually refining the answers to four critical questions that serve as the foundation for ultimate workplace success and significance.
Learn the 4 skills to elevate one's career and organization and how one's personal leadership brand can create a workplace culture that fosters innovation and initiative.
Gain proficiency in the ultimate 5-step guide to leadership brand mastery.
BONUS: Speed Branding - where your peers help you define your leadership brand!
"Women are ready to live with an entrepreneurial spirit and activate their ability to connect the dots of resources and relationships to create and sustain momentum," says Marisa Salcines, GLG's Vice President of Strategic Communications and an alumnus of the firm's professional development training. "This workshop helps unlock our hidden leadership skills and provides us with a roadmap to maximize our impact and influence in the workplace and beyond."
Adds Llopis, whose February Forbes article, The Most Undervalued Leadership Traits of Women, was read by thousands across the globe, "In order to consistently deliver on the natural leadership skills that they possess, women must confidently convert today's shallow waters into deep reservoirs of endless possibilities in business, government, and the media. This is not just about having a voice; it's about changing the conversation about what is required to enable growth, innovation and opportunity."
To register for the workshop, please call Annette Prieto, Vice President of Client Relations, at 949-387-2609 or annette(at)glennllopisgroup(dot)com.
One-Day Workshop Details
Date: July 10, 2014
Where: 19200 Von Karman Avenue
Irvine, CA 92612
Time: 8:00 am - 5:30 pm
Fee: $1500
Enrollment Open through June 15th
About Glenn Llopis Group
GLG is a nationally-recognized thought-leadership, human capital, and business strategy consulting firm whose product and service offerings for Fortune 500 clients as well as entrepreneurs include leadership and talent development, cultural intelligence competency, content marketing, communications, business strategy and modeling, and workplace culture transformation
Focus Areas
Thought-Leadership: Amplify Influence.
Maximize Marketplace Reach and Relevancy
With thousands of individuals viewing GLG content daily around the world on Forbes, Huffington Post, and the Harvard Business Review as well on ABC, NBC, CBS, Univision, Telemundo and others , GLG helps organizations become the go-to-authority on the most relevant topics for their business, brand, and industry.
Human Capital: Develop Authentic leaders.
Discover Identity, Impact and Workplace Value
GLG's high-impact training programs focus on helping participants discover their authentic personal brands as leaders and learn how to leverage this to increase leadership engagement, high-performance, and contributions to the organization's mission, goals, and objectives.
Business Strategy: Create New Revenue Streams.
Opportunity is the Currency for Growth‏
GLG guides corporations' business development and strategy requirements to most effectively and efficiently see and profitably seize marketplace opportunities previously unseen - and opportunities that your competitors don't see at all