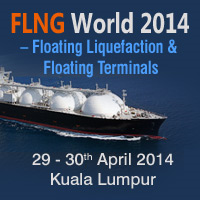 Floating liquefaction and regasification projects across the globe along with insights on capacity, operational challenges, capital expenditure, market structure and supply/ demand trends for the next few years are key highlights of the conference.
Kuala Lumpur, Malaysia (PRWEB) March 25, 2014
This April event promises insightful case studies, panel discussions and success stories plus a one hour dedicated session on 'A-Z on contractual methods for structuring floating LNG projects', covering topics on ownership structures contractual issues, intellectual property. This will be conducted by Matthew Blycha, Partner, Holman Fenwick Willan, who is currently working on some of the big FLNG projects in the region.
Among the experienced operators and LNG industry players speaking are Jakob Stampe, Managing Director, Hoegh LNG Asia; Kris Martinick, LNG Projects Development Manager, Wison Offshore & Marine, Asia Pacific as well as Robert Germinder, Senior Vice President at Black & Veatch International who are both working on the Caribbean FLNG expected to begin operation in the second quarter of 2015.
OLT – the world's first permanently moored offshore FSRU has nominated Peter Carolan, Managing Director at OLT Offshore to provide an 'Overview of the technical, authorization, commercial aspects of the project from concept to delivery', while 'India's Swan Energy – Gujarat FSRU' will be represented by its Director – P Sugavanam.
Further, an exclusive Financing Round Table on 'Securing Finance for Floating Liquefaction and Floating terminals – Financiers' perspective on technology risks' will be jointly delivered by Ravi Suri, Head of Project Export Finance, Standard Chartered Bank and Travis Maurer, First Vice President, Sumitomo Mitsui Banking Corporation.
Other key sessions and speakers in the agenda are:

FLNG Prospects 2014-2020 (Macroeconomic drivers, project outlook) – Jason Waldie, Director, Douglas-Westwood Singapore
Floating Compressed Natural Gas (FCNG) vs FLNG as a cost effective alternative to monetize offshore gas fields – David Stenning, President and COO, Sea NG Corporation
Gas pretreatment solutions for FLNG – Anthony Purcell, Sales Director - South Asia, Gas Processing & Hydrogen, Honeywell UOP
4 MTA FLNG Concept for Severe Metocean Conditions – Robert Shivers, Principal, LoneStar FLNG
Floating Offshore Installations at a Fixed location covering FLNG, FSRUs (Australia's perspective) – Jeff Baker Energy Compliance Technical Manager, Australasia, Lloyds Register International
Floating Regasification projects and market overview – Tony Regan, Tri-Zen
Challenges in FSRU design – Tor Skogan, Vice President LNG, Moss Maritime
The event is expected to be attended by the who's who of the industry including – Oil & Gas Producers, EPCs, construction and support services to the oil & gas industry, Traders, Importers & Distributors, Power companies, Gas processors, Export/Import terminal operators, Ship Owners, Brokers & Charterers, Shipyards, Fabricators, Technology Licensors, Refiners, Investment Banks, Marine insurance companies, Risk Managers, Analysts, Government/ Regulators, National Oil Companies and others.
For more details, visit FLNG World 2014 website>>>
For enquiries on registrations, contact Ms. Huiyan at +65 6346 9113.