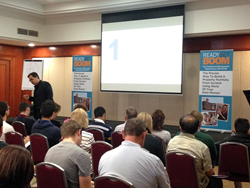 There are so many different things that you can do now that the world has really opened up to. Distance is no boundary.
(PRWEB) March 19, 2014
In his just-released latest Podcast, Australian property millionaire, Rick Otton, has drilled down to the fine details of his creative real estate strategies. During the special session, Mr Otton talks with a long-time student and special guest, Andy, about everything from Skyping potential clients to getting into the psychological headspace of sellers.
Mr Otton kicked off the podcast with a piece of advice urging property investors to focus on identifying a seller's motivation rather than bare-bones details such as the house price.
"You're like a doctor with a tool bag, and you want to find out where the seller's head is at, what he's thinking and what he's been doing so far that hasn't been working – and that'll give you some ideas of how the next part of the conversation might flow," he said.
"It's like you're sifting and sorting for gold. You put all the dirt on the top and start sifting. About 90 per cent of the stuff falls through and then the nuggets are left. You're asking the sellers the same questions, and the good stuff will stay in the basket. That's when you go to the next stage."
A professional property investor
Special guest, Andy, said when he first started Rick Otton's creative real estate techniques, he did the hard yards through cold calling countless sellers. Since then, his business had picked up dramatically, partly through a significant increase in referrals from both clients and real estate agents.
He said Mr Otton's real estate investing deals offered unique solutions and the key to financial freedom for property investors where traditional strategies failed. An example might be when someone moving into retirement had investment properties and needed to turn their negatively geared portfolios around to positive cash flow.
"A lot of the time, I'll talk to my clients through Skype as the majority of my deals are remote," Andy said.
"There are so many different things that you can do now that the world has really opened up to. Distance is no boundary. In the initial conversation, I'll usually just see how motivated sellers are to determine whether it's worth going to the next stage."
Mr Otton said getting potential sellers to open up to entirely fresh real estate concepts was half the battle won.
"When people buy into the concepts, you can always figure what which tools you'll bring to the table later on," he explained.
To hear this, and other free podcasts from Rick Otton visit CreativeRealEstate.com.au.
About Rick Otton
Australian property investment specialist, Rick Otton, has been developing, sharing and teaching his innovative real estate strategies for 23 years. As the founder and CEO of We Buy Houses, which operates in the US, UK, Australia and New Zealand he is known for introducing cutting-edge techniques that have enabled previously disenfranchised people to get out of the rental cycle and into their own homes.
His innovative low-risk, high-reward approach to Australian real estate investing has been featured in a variety of television programs and magazines, including Today Tonight, Hot Property and Australian Property Investor. His real estate book, published in 2012, ''How To Buy A House For A Dollar', voted by Money Magazine and Dymocks Book stores as one of the Top 10 Most Popular Finance Titles for 2013.
As well as conducting free seminars, workshops and conferences in the UK and Australia, Mr Otton releases a weekly podcast on iTunes, Creative Real Estate. In these he shares examples of real transactions, and you can listen to his students share their own experiences using his strategies.
Go to CreativeRealEstate.com.au to listen to Rick's free podcasts.