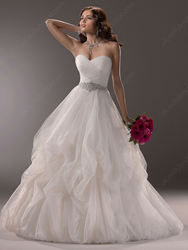 (PRWEB) March 18, 2014
Millybridal, a global online destination for wedding and event dresses, has recently released its cheap wedding dresses 2014 collection. The 2014 wedding dresses are all offered at low prices ranging from between £280-£150. To keep the price budget-friendly doesn't mean you need to sacrifice the styles. The newly-released wedding dresses collection for spring 2014 is designed with distinctively feminine, flirty, fun and contemporary style.
"We work hard for our customers, always aiming to give something unique," the Millybridal founder says, "our basic idea is to offer the brides their dream bridal gowns with affordable prices. We are proud to provide free custom made service. Every bride-to-be can choose custom size to make the gown best fit. "
"We have applied the highest standards of creativity, integrity, quality and innovation this newly-released wedding dresses collection. " Said the product manager, "As for our shipping and packaging, you are assured to enjoy a fast and professional service due to our long-term partnerships with Royal Mail, DHL, and DPD. Thus, no matter where you are, your order will arrive in time and be safe without any damage because of those well-trained stuff. Shop your dream wedding dresses here, and feel the difference."
About Millybridal
Founded on an intuitive understanding of what a woman needs, Millybridal offers whatever a woman dream of for a wedding. We have a variety of gorgeous wedding dresses, modern bridesmaid dresses, matching high heels and exquisite accessories on sale. Through years of effort, now Millybridal has become one of the well-loved bridal brands.
Don't know where to begin? Check out newly-released wedding dresses here: http://uk.millybridal.org/browse/wedding-dresses-2014-c-24/ or https://www.facebook.com/Millybridalorg