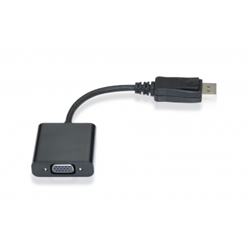 (PRWEB) March 18, 2014
Recently, Hiconn Electronics, the popular computer peripheral manufacturer from China, has announced its DisplayPort to VGA Adapter promotion for worldwide customers. As a special offer for 2014 spring, all consumers that place an order for its brand new adapters can get a deeply discounted price, up to 30% off. The big sale is valid until April 15.
The good news is that the DisplayPort to VGA Adapters from Hiconn Electronics come in several specifications. For the company, customer satisfaction is among the most important issues. Its top experts with a vast knowledge of product functions and customer needs can always create the best devices. Besides the big discounts, all new and old clients can access low shipping costs during the promotional period.
The followings are some details of the company's DisplayPort to VGA Adapters:
--Compliant with mini DisplayPort specification 1.1a for both 1.62 Gbps and 2.7 Gbps
--Supports full mini DisplayPort link tracking
--Supports resolutions up to 1920 x 1200 pixels and HDTV resolutions up to 1080p
--Support deep sleep mode (suspend mode)
--Easy to use adapter, no software required
As a long-lasting supplier in the global market, the company understands that product quality is of great significance. Thus, it persists on using top quality materials. Its brand new adapters are carefully made for the international customers.
About Hiconn Electronics
Hiconn Electronics (Shenzhen Hiconn Electronics Co. Ltd.) is devoted to designing and manufacturing a wide range of connection cables and customized cable assemblies, offering many HDMI cables, VGA cables, SATA cables, USB cables, 1394 cables, DVI cables, SCSI (Small Computer System Interface) and more. For more information, please visit http://www.hiconn.net/.
Contact Person: James Yin (Sales Director)
Company Name: Shenzhen Hiconn Electronics Co., Ltd.
Address: Shenghua Building., Xixiang Road., Baoan District, Shenzhen, Guangdong Province, China
Zip Code: 518102
Tel: +86-755-8109 8345
Fax:+86-755-2779 3497