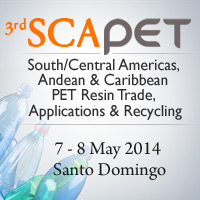 Emerging PET market in South/Central Americas, Andean & Caribbean region will be discussed via dedicated sessions on – PET packaging, resins, trading, PET end users, bottling, recycling and much more.
Santo Domingo, Dominican Republic (PRWEB) March 26, 2014
Armed with a top-notch speaker panel and a gathering of PET converters, bottlers, recyclers, resin producers and brand owners, 3rd SCAPET is slated to be a key PET event in 2014. As the shift from glass to PET packaging continues in South/Central Americas, Andean & Caribbean region driven by consumerism, 3rd SCAPET starts off with a Brand Owners' session on 'Packaging Challenges in Colombia/Central America for Personal Care & Cosmetics' by Luis Rodolfo Arévalo Pliego, Regional Manager (Packaging, Engineering & Design for Personal Care LATAM), Colgate Palmolive and a Panel Discussion on 'Packaging for Consumers: What are the market requirements & Design Approaches?' – led by Francisco Bendek, CEO, Packaging Solutions and senior representatives from Planeta Azul and Grupo Bepensa.
The crucial topic of 'Global Overview of Food Contact Regulations for PET and Post-consumer Recycled PET' will be addressed by Prof. Alejandro Ariosti, Technical Specialist (Materials for Sanitary Applications), INTI-Plasticos, while a Bottler's Perspective on 'Strategies for Success in the CSD Industry' is shared by Eusebio Ang Sánchez, Chief Procurement Officer, Arca Continental. Plus, there are two dedicated sessions on PET trends, from a production and sustainable angle: 'Production Challenges related to PET Market Trends' by Fernando Castro, Operations Director, Caiba and 'Bio-based PET - Promises, Realities, Opportunities and Challenges' by Dr. Ranganath Shastri, Director – Technical Research, Graham Packaging.
Other topics of 3rd SCAPET are:

Global PET & Regional Trade Outlook – Andrew Noone, Chairman, PCI
Assessing Polyester Intermediates: PX, PTA & MEG Outlook – Marisabel Dolan, Consultant, Nexant
Panel Discussion: Growth or Glut! How will Global Capacity Impact the PET Industry Beyond 2014 –Augusto Liparachi Knudsen, Commercial Director PET, Ravago Americas; Luis Bittencourt, Commercial Manager, PQS
Some of the other speakers are from Netstal, Frigel, Starlinger and Gneuss.
The event is further enhanced by a Site visit to Agua Planeta Azul (6th May) and a Post Conference Workshop on 'Barrier Technology & Properties'.
More information is available at 3rd SCAPET website.
For registrations, contact Ms. Hafizah +65 6346 9218.
For enquiries in Spanish, contact Ms. Tanya +52 55 5635 2672.