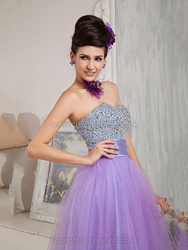 (PRWEB) March 18, 2014
The latest styles of UK prom dresses have just arrived at Dresseshop, a well-known online prom dresses retailer. The newly-released collection of prom dresses 2014 is inspired by the most sought-after prom trends of this spring in Europe. Brides-to-be can now shop from this collection and discover the impeccable styling.
"Every girl deserves to be unique for her special day. We offer high quality, yet budget-friendly prom dresses for young girls. Every dress is hand-made and can be made in custom size. The special offer is valid until April 20 and new customers can get extra £10 off for the first order. Do check back often; we will update the new prom dresses collection every morning," the company founder DMS said. "We aim to exceed customer expectations at every stage of the shopping process through our worldwide express delivery, luxurious packaging, and unparalleled customer service."
One of our happy customers said, "Every dress that I have received from you always exceeds my expectations. Your pictures and descriptions are the best represented on the web. The dresses are always true to description, but so much more gorgeous than I am expecting."
About Dresseshop
Established in Aug. 2009, Dresseshop has been honored to receive ISO9001 (2008 version) Quality Management System Certification assessment, and authorized by SGS(Societe Generale de Surveillance)and BV (Bureau Veritas GSIT Division). And we are featured in THETIMES.CO.UK as a way for brides to cut the cost of their day. We are passionate about providing the latest fashion trends and coolest celebrity looks.
Brides can shop online from here: http://www.dresseshop.co.uk/ or https://www.facebook.com/Dresseshop.