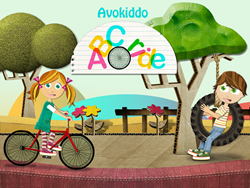 As they locate the missing letters and set them free, children will quickly associate them with words since the H is hidden in a hat, G is in a gift and W is pulled from a well.
Orlando, FL (PRWEB) March 20, 2014
Celebrate spring with the return of Beck and Bo as they extract an E from an egg, jump and jiggle on a jelly to find the J and tie a tire to a tree to touch the letter T. In Avokiddo ABC Ride the wide-eyed cardboard cutout dolls are out for a bike ride and need your child's help to find all the hidden letters of the alphabet. Doing so will require some creative problem solving, good listening skills and a bit of hand-eye coordination. As they locate the missing letters and set them free, children will quickly associate them with words since the H is hidden in a hat, G is in a gift and W is pulled from a well.
Finding letters is only one of the activities at each stop on Beck and Bo's ride. Kids also get to spell a new word using simple drag and drop letters in each of the 26 scenes. The name or sound of each letter is repeated as it's placed, thereby reinforcing early literacy and phonemic awareness.
Avokiddo ABC Ride goes far beyond the average alphabet app. A isn't just for apple, it's for apricot, appear, acquire, applause and attention. The app uses alliteration and introduces some big words to little people. Kids hear strong action verbs like cram, disclose and manage and descriptive adjectives including cavernous, flowing and impatient.
In addition to the many impressive new vocabulary words introduced, each scene in Avokiddo ABC Ride presents a new puzzle for children to work through and highlights a different set of preschool skills. Several of the activities involve shapes, colors, sorting and matching which will be familiar to preschoolers while others will require some creative thinking and use of imagination. Following verbal directions, paying attention to visual cues and deductive reasoning are all needed to complete the objectives.
The tasks required to help Beck and Bo complete their bike ride are meant to be challenging while still maintaining a lighthearted, relaxed feel that's fun for children. Some will take several attempts and offer the chance to learn perseverance and determination. Kids receive lavish praise throughout the app. Their hard work pays off because when the newly minted wordsmiths make it to letter Z, they'll be rewarded with a cameo appearance from their friend, the zany zebra from Avokiddo Emotions.
Features:

Play and problem solve in 26 unique scenes to reveal the hidden letters
Interactive spelling activity in each scene
Option to hear letter names or their phonetic sounds
Use of alliteration to build early literacy and letter recognition skills
Varied interactions which engage hand-eye coordination, following directions and creative problem solving
Bike through scenes in a beautiful trail ride
Beautiful artwork with lots of sunshine, trees and flowers
Fun activities that invite active participation throughout
Exposure to highly descriptive new vocabulary in each scene
Professional narration and plenty of positive verbal reinforcement
Child safe with no in-app purchases, ads or unprotected external links
A trailer video is available here: https://www.youtube.com/watch?v=lfTKr1pZH2g
Pricing and Availability:
Avokiddo ABC Ride is available worldwide through the App Store in the Kids & Education categories at the special launch price of $1.99. From April 3 the app will be priced at $2.99.
iTunes link: https://itunes.apple.com/us/app/avokiddo-abc-ride/id827657068?ls=1&mt=8
Device Requirements: iPhone, iPad, iPod touch - Requires iOS 5.1 - 106 MB
About Avokiddo:
Avokiddo is a creative studio specializing in the development of quality educational apps for children. Avokiddo's award-winning apps have received excellent reviews and feedback from respected reviewers, parents, kids and educators. Avokiddo Emotions, their previous app, is featured in Apple's website as #1 favorite app for the new iPad Air and iPad Mini. As a MOMs with Apps member, Avokiddo follows the "Know What's Inside" best practices for kids' apps. Learn more at http://www.avokiddo.com and http://www.facebook.com/avokiddo.