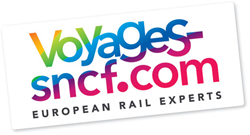 (PRWEB UK) 20 March 2014
A new offer from Voyages-sncf.com could save travellers up to 70% on selected journeys this March and April.
The offer is valid on numerous high speed TGV routes, for both standard and first class travel within France and across the border from France into Germany, Italy, Belgium and Luxembourg. Fares start at £17.50 one way from Paris to destinations including Reims and Tours; from £22 one way to cities such as Dijon, Poitiers and Bordeaux and from £26.50 one way to southern destinations including Avignon, Marseille and Biarritz.
Also included in the offer are destinations in Italy, such as Milan, Turin and Oulx (a good option for late season skiers) with fares starting at £25.50 one way, while high speed services between Paris and Germany start at £34 one way in standard class to cities including Frankfurt, Munich and Stuttgart.
The offer is available to book until Monday 31 March 2014 for travel between Friday 21 March and Thursday 10 April 2014.
Seats at the special offer fares are limited, so Voyages-sncf.com advises customers to book early to avoid disappointment.
For more information or to book, go to Voyages-sncf.com, call 0844 848 5848, or visit the Voyages-sncf Travel Centre at 193 Piccadilly, London W1J 9EU.
ENDS
Notes to Editors:

Special offer fares are subject to availability and the offer may be withdrawn without notice at any time.
Routes and carriers covered include French domestic TGV, TGV Paris – Luxembourg, TGV Brussels – Provinces, Alleo, TGV France-Italy and TGV Paris-Freiburg.
Voyages-sncf.com was created in 2000, as the travel agent and ticket distribution outlet of SNCF (French National Railways).
In 2012, the group sold 68 million tickets with an annual sales revenue of €3.6 billion in 2012, across more than 30 countries.
The group has 650 employees of whom one third are dedicated to European operations outside of France.
About Voyages-sncf.com
Voyages-sncf.com is a key player in the European tourism industry and an expert in railway travel and French destinations. It employs 650 people, a third of whom work exclusively for Europe. Voyages-sncf.com has taken a comprehensive approach to its customers that includes 13 web and mobile sites, five travel centres and an integrated call centre service.
For more information visit: corporate.voyages-sncf.com
About SNCF Group
Present in 120 countries, SNCF is a world leader in mobility and logistics. Its total workforce of 250,000 generated revenue of €33.8 billion in 2012, with over 1/5 of sales from markets outside France. A public sector group dedicated to public service, SNCF builds on its foundations in rail to offer a broad range of services, delivering seamless door-to-door mobility for transport and logistics operators, passengers and the regional and local governments that are its organizing authorities. SNCF Group targets cross-border and international markets, and has five divisions: SNCF Infra manages, operates, maintains and develops rail and related infrastructure; SNCF Proximités operates local, urban and regional passenger services; SNCF Voyages operates long-distance passenger services and distribution; SNCF Geodis provides freight and logistics services; and Gares & Connexions manages and develops train stations. http://www.sncf.com