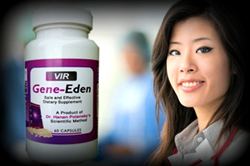 By helping the immune system to maintain low numbers of latent HPV, an individual also lowers his or her risk of developing genital warts. - polyDNA
Rochester, NY (PRWEB) March 21, 2014
polyDNA found that in its March 2014 survey, up to 88% of respondents didn't know how long they needed to wait to have sex after a genital warts outbreak.
Mike Evans, from polyDNA said "Lots of people who have just one genital wart, or a full blown case of genital warts, can have a single outbreak and then they clear up for good. The CDC says that 'In most cases, HPV goes away on its own and does not cause any health problems.' (See the CDC, last updated on January 23, 2014) (1). But, some people can have really stubborn cases where they get rid of genital warts for a while and then they just come right back. Well, you don't want to give those buggers to your sexual partner. So knowing how long you need to wait after a genital wart outbreak before one has sex is really very important."
The answer, as stated by the British sexual health charity, FPA.org.uk, is that "You may be advised to avoid sex until the warts have cleared up. This is mainly to protect the treated area of skin from friction and to help it heal. Using condoms may help to prevent the spread of the genital wart virus if they are used while the warts are present and for the first three months after the warts have gone." (See the FPA, published in November 2012) (2).
polyDNA agrees and therefore advises that people wait to have sex until after genital warts are no longer present. Everyone should remember that there are no FDA approved treatments in the United States that actually kill the genital wart virus that causes genital warts once a person is already infected. "There are no drugs approved against the HPV. Current treatments include procedures, such as cryotherapy, conization, and the Loop Electrosurgical Excision Procedure (LEEP). These procedures use liquid nitrogen, a surgical knife (scalpel), a carbon dioxide (CO2) laser, or electrical current to remove the abnormal growths caused by the HPV. These growths include cells that harbor the active virus. The procedures do not target cells with the latent virus. Since they do not remove the latent virus, these procedures only produce a temporary remission." (See Pharmacology & Pharmacy, published in September 2013) (3).
A healthy immune system is a person's top defense against genital warts. The good news is that the CDC says, "In 90% of cases, the body's immune system clears HPV naturally within two years (1)."
Nevertheless, clearing the genital wart virus does not mean the virus goes away. It just means that your immune system is strong enough to keep the virus from causing symptoms. The virus itself knows this and lodges itself in one of the body's organs in what scientists call a latent infection. When a virus is latent, it acts like it is asleep. A weakened immune system, on the other hand, allows the HPV virus to "wake up" and become active again.
polyDNA therefore recommends that HPV infected individuals ask their doctors about Gene-Eden-VIR. This natural antiviral was proven to reduce HPV symptoms in a post-marketing clinical study that followed FDA guidelines. "The key to your health is to reduce the level of the latent viruses in your body to harmless levels." - Dr. Hanan Polansky, Director, Center for the Biology of Chronic Disease (CBCD).
By helping the immune system to maintain low numbers of latent HPV, an individual also lowers his or her risk of developing genital warts.
A recent post marketing clinical study published in the peer reviewed, medical journal Pharmacology & Pharmacy, in a special edition on Advances in Antiviral Drugs on August 12, 2013 showed that Gene-Eden-VIR is safe and effective (3). Additionally, up to 70% of those studied reported a decrease in HPV symptoms (3).
Each ingredient of Gene-Eden-VIR was chosen through a scientific approach. Scientists scanned thousands of scientific and medical papers published in various medical and scientific journals around the world to identify the safest, most effective natural ingredients that target the latent form of HPV (3).
To learn more about Gene-Eden-VIR and HPV, visit http://gene-eden-kill-virus.com/HPV-Remedy.php. All orders of Gene-Eden-VIR are completely confidential, and no information is shared or sold to any third party. Privacy is assured.
References:
(1) CDC - Human Papillomavirus (HPV) - Genital HPV Infection - Fact Sheet. Last updated on January 23, 2014.
http://www.cdc.gov/std/HPV/STDFact-HPV.htm
(2) FPA - Genital Warts. Published in November 2012.
http://www.fpa.org.uk/sites/default/files/genital-warts-information-and-advice.pdf
(3) Gene-Eden-VIR Is Antiviral: Results of a Post Marketing Clinical Study. Published in September, 2013.
http://gene-eden-kill-virus.com/PP_Gene-Eden-VIR-is-Antiviral.pdf
polyDNA is a biotechnology company that develops dietary supplements using the unique scientific method developed by Dr. Hanan Polansky, which is based on Computer Intuition.
In addition to his unique scientific method, Dr. Polansky published the highly acclaimed scientific discovery, called Microcompetition with Foreign DNA. The discovery explains how foreign DNA fragments, and specifically, DNA of latent viruses, cause most major diseases.
polyDNA developed Gene-Eden-VIR , an antiviral natural remedy that helps the immune system kill latent viruses.