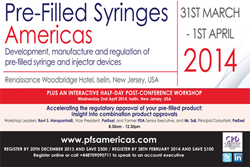 Iselin, USA (PRWEB UK) 19 March 2014
Pre-filled syringes and the coming wave of auto-injectors offer patients the opportunity to manage their own treatments. This also simultaneously vastly reduces care costs for sufferers of chronic illnesses with the potential of saving insurance companies billions of dollars annually. This perfect commercial storm is driving a tide of innovation in the sector, with advances in container materials and device design opening up a wave of biologics and large molecule drugs to self-application.
SMi are bringing together the leading figures from Europe and the US for Pre-Filled Syringes Americas Conference and Exhibition in two weeks' time. This will be the largest gathering of industry professionals ever in the United States and it would be a pleasure to welcome you and your colleagues to this eminent delegation.
Guy Furness, Proprietor and Publisher, ONdrugDelivery Magazine: "Building on the success of their established Annual European Prefilled Syringes conference, it's great to see SMi is off to a flying start with the North American event. A wise choice of location and an intelligently designed program of expert speakers promises to bring together the leading minds and influencers mapping the future of the prefilled syringes sector."
List of attending delegates includes leading experts from over 55 organisations. The SMi Group announced the list of attending companies on the event's website (http://www.smi-online.co.uk/2014pfs-usa53.asp). Some of the attending organisations include Baxter Healthcare Corporation, Beroe Inc, Bosch Packaging Technology, Bristol-Myers Squibb, GSK, Merck & Co Inc, Noxilizer, Pfizer, rap.ID Particle Systems GmbH, Zeon Chemicals L.P and many more.
Event's speakers include: Alexei Goraltchouk (Associate Director, Operations, Regeneron), Scott Brown (Device Development Lead, Merck & Co Inc), Michael Dudley (Managing Director, Artemes Technology), David Opie (PhD SVP, Noxilizer Inc), Steven Projan (SVP, MedImmune), Oliver Valet (Co-Founder, rap.ID Particle Systems GmbH), Chanderkanth Gautam (Senior Research Analyst, Beroe Inc), Toshiro Katayama (Product Manager, Zeon Chemicals L.P.), Thomas Osterberg (Senior Manager, Biologics, Pfizer), Gregory Sacha (Senior Research Scientist, Baxter Healthcare Corporation), David Opie (PhD SVP, Noxilizer Inc), Oskar Lamla (Sales Pharma Liquid, Robert Bosch Gmbh) and many. Visit the event's website for more information about speakers and their presentations.
The conference will be followed by the interactive half-day workshop (2nd of April, 2014)- "Accelerating the regulatory approval of your pre-filled product: Insight into combination product approvals", hosted by Ravi S. Harapanhalli, Vice President, PAREXEL, and Former FDA Senior Executive, and Mr. Sall, Principal Consultant,
For more information about this event or to download the event's brochure including the complete list of speakers and their presentations please go to the event's website, http://www.smi-online.co.uk/2014pfs-usa53.asp.
Alternatively, contact Fateja Begum via +44(0)207827 6184 or e-mail fbegum(at)smi-online(dot)co.uk.