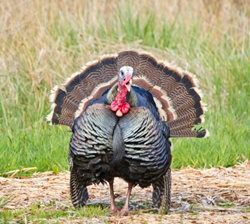 Birmingham, Michigan (PRWEB) March 19, 2014
It is now easy for a new hunter to be prepared for the upcoming Texas Spring Turkey Hunting Season by taking the Texas Hunter Ed Course Complete Certification Hunter Education Course. The Hunter Ed Course Texas Complete Certification Online Hunter Education training is available for students 17 years of age and older and requires no field day. All learning is online.
Previously a student would also have to attend a field day, but that requirement is now waived if the new online Complete Certification Hunter Education Course is taken.
The hunter education course for students younger than 17 is also available as an online hunter safety course, but a field day is required to demonstrate gun handling safety skills.
Hunter Ed Course offers the lowest cost online hunter education training at only $18 while the other two offerings cost $29.50 and $29.95. The HunterEdCourse.com hunter safety training is an official Texas hunter education course using narration and closed captioning with interactive animations so learning becomes fun and easy.
After completing the online hunter safety course, the graduate prints out a temporary hunter education card allowing them to be hunter education approved for hunting and and buy a license the same day.
The course provider submits the hunter's data to TPWD and a permanent card is sent within 30 days. Until the permanent hunter education card arrives, the new Texas hunter just carries the temporary card as proof of successful hunter education certification.
Turkey season has started in some counties already, but the season gets underway in full starting in April. A hunter should refer to the Texas Parks & Wildlife website for specifics on the season for the county being hunted.
With the new Texas Complete Certification Hunter Education Course requiring no field day it is easier than ever for the new Texas hunter to get started in the sport. And, Texas turkey hunting is a fun way to get started for hunters of all ages.
About the Author
Jim Moore is the founder of HunterEdCourse.com, a leading provider of online hunter education as required in all 50 states for new hunters. Jim was formerly CEO of Remington Outdoor and is an active participate and supporter of International Hunter Ed Association and the Council to Advance Hunting and Shooting Sports.