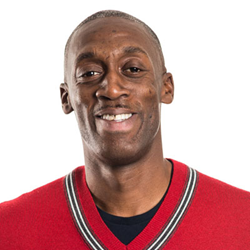 The scholarship is life-changing - it is a dream come true. I love the subject and what I am possibly able to do for other people, and one of my personal aims is to get more black youth into the legal profession.
(PRWEB UK) 18 March 2014
Aspiring lawyer Steve Lewis is a major step closer to his dream job thanks to winning a Freshfields Stephen Lawrence Scholarship and his studies at Birkbeck, University of London. He was selected by international law firm Freshfields Bruckhaus Deringer for the new scholarship programme, which aims to address the under-representation of black men from low-income households in large commercial law firms.
Lewis is the only Londoner among the six outstanding candidates chosen from across the country to join the inaugural year of the Freshfields Stephen Lawrence Scholarship programme. As a scholar, Lewis receives many benefits and opportunities, including £3,500 towards studying for his undergraduate degree in Law (LLB) at Birkbeck (London's evening university), interview coaching and career guidance, one-to-one mentoring, and an alternative route to interview for a training contract at the City law firm.
Freshfields is also collaborating with clients and partners, including Goldman Sachs and the Bank of England, to deliver aspects of the programme. The scholarship programme will initially run for three years, with the search for the class of 2014 scholars now underway. Birkbeck is nominating six students for the scholarships being offered this year.
Lewis, 43, said: "The scholarship is life-changing – it is a dream come true. I love the subject and what I am possibly able to do for other people, and one of my personal aims is to get more black youth into the legal profession."
As part of the application process, candidates met Baroness Doreen Lawrence of Clarendon OBE. This was a particularly emotional moment for Lewis. He added: "Being a black man, Stephen's murder especially touched a nerve with me. Londoners have grown up with what happened surrounding his death. I am determined to work hard and become a lawyer and I would like to give back."
Baroness Lawrence said: "My personal ambition is to help provide opportunities for people to become the best that they can be. I have met the scholars and am sure that the Freshfields Stephen Lawrence Scholarship will enable them to build successful careers."
Lewis left school at 16 and worked in various jobs, including as a baggage handler at London City Airport and as a mobile phone salesman, before deciding to pursue his interest in Law. Aged 41, he began a part-time Certificate of Higher Education in Legal Methods at Birkbeck in Stratford. In 2012, the father of two began his full-time undergraduate degree in Law at Birkbeck's campus in Bloomsbury. His studies will last for another 16 months.
Lewis is also sharing his university experiences and urging others to follow his example. A talented steelpanist and leading member of the Ebony Steel Band based in Notting Hill, he has said many of the youngsters involved in the band see him as an inspiration. He added: "There are ways to achieve that don't involve crime. Many people are saying I am an inspiration and I am encouraging them to think about studying."
Daniel Monk, Reader in Law at Birkbeck's School of Law, is one of Lewis' lecturer and has helped develop the scheme with Freshfields. He said: "Steve Lewis is an excellent student and the scholarship is having a very positive impact on his progress. His dedication is impressive, and he is a powerful example of how you can begin studying and embark on a new career in your forties."
Freshfields' senior partner Will Lawes said: "We are delighted to have found these talented and
driven individuals as our inaugural scholars. The aim of the scholarship is to open doors to the legal profession for people of potential and at the same time ensure that we enrich the talent pool of candidates for positions at our firm for the long term."
Notes to Editors
About Birkbeck, University of London

Birkbeck, University of London, is a world-class research and teaching institution, a vibrant centre of academic excellence and London's only specialist provider of evening higher education.
In 2013, Birkbeck was ranked among the top 1% of universities in the world.
Birkbeck's students consistently rank Birkbeck number one in London for the quality of its teaching.
To interview Steve Lewis or Daniel Monk, please contact Guy Collender (g.collender(at)bbk(dot)ac.uk, 020 7380 3108).
About Doreen Lawrence, Baroness of Clarendon, OBE

Baroness Lawrence was thrust into the limelight in 1993 following the racist murder at a London bus-stop of her 18-year-old-son, Stephen. Her relentless campaign for justice over the past 20 years continues to transform British society. Doreen's goals are threefold: to achieve justice for Stephen, to improve the criminal justice system and to build a more equal society where people from all backgrounds can contribute to its success.
About Freshfields

Freshfields Bruckhaus Deringer LLP is a global law firm with a long-standing track record of successfully supporting the world's leading national and multinational corporations, financial institutions and governments on ground-breaking and business-critical mandates. Our 2,500 plus lawyers deliver results worldwide through our own offices and alongside leading local firms. Our commitment, local and multi-national expertise and business know-how means our clients rely on us when it matters most.
Eligibility for the Freshfields Stephen Lawrence Scholarship scheme 2014

The Freshfields Stephen Lawrence Scholarship scheme 2014 is now launched. Applications for the scholarship are welcomed from exceptionally-talented students who are committed to pursuing a career in the legal profession and who satisfy all of the following four criteria:
1. Black African or black African-Caribbean or mixed-race black African or mixed-race black African-Caribbean.
2. Male.
3. Studying a qualifying law degree course at a UK university and
a) in the case of a course of four years or less, in the first year of that course; or
b) in the case of a course of more than four years, did not prior to 3 May 2013 hold a total credit score of 120 credit points towards this degree and has since 3 May 2013 attained a total credit score of at least 120 credit points towards this degree; or
c) (for the 2014 scheme only) will graduate in summer 2016 in the case of a course which is longer than three years e.g. in the second year in the case of four-year course.

4. From a lower-income household: attended a state (non-fee-paying) school and satisfies at least one of the following:
a) has been eligible for free school meals;
b) attended a school that is above the country average in terms of number of students eligible for free school meals;
c) is in the first generation of the candidate's immediate family to attend university; and

i. in the case of a full-time student, is in receipt of a maintenance grant from one of the following UK bodies: Student Finance England, Student Awards Agency for Scotland, Student Finance Wales, Student Finance NI; or
ii. in the case of a part-time student, would have received a maintenance grant from one of the above UK bodies had he been a full-time student.
d. has an overwhelming case (other than the student's exceptional talent, which is a necessary criterion for all applicants) that although the student does not meet criteria 4a, 4b or 4c above, it is appropriate for him to be considered for inclusion in the scheme.
Selection process:

1. Interested candidates have the opportunity to attend a half-day 'Inside Freshfields' event to find out more about Freshfields, the Trust and the applications process.
2. To apply for the scholarship, candidates are asked to submit a 90-second film outlining why they should be considered for the scholarship. A Dean of the Law Faculty or another lecturer in the law department also had to complete an application form on the student's behalf.
3. Eligible candidates were invited to a two-day assessment centre to test applicants across a range of skills and personal characteristics.
Media representatives can register to receive electronic copies of press releases as they are added to our website by visiting http://www.freshfields.com.