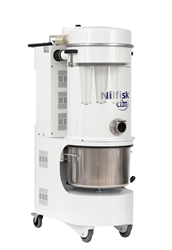 (PRWEB) March 18, 2014
Nilfisk CFM's newest White Line industrial vacuum cleaners feature the InfiniClean™ automatic filter cleaning system. Clogged filters directly impact vacuum performance and cause costly downtime, so Nilfisk CFM designed InfiniClean to continuously clean the filter during unattended, continuous-duty applications such as packaging, compression, capsule filling, de-dusting and tablet pressing. InfiniClean vacuums will run optimally without user interaction and without compressed air for maximum productivity, filter efficiency, worker safety and clean air.
InfiniClean is a self-contained, automated filter purging system requiring no external compressed air supply, secondary power source or cleaning actions by the operator. The system continually re-routes exhaust air to sequentially blast conical filter cartridges, sending built-up dust down into the collection container. InfiniClean's design provides users two key benefits to improve performance and efficiency:

"Always clean" filters maintain peak suction performance to dramatically reduce dust build-up inside processing equipment and eliminate costly downtime.
With no additional power sources required, users can place the vacuum anywhere in the manufacturing facility and easily move it between processing lines.
Conical HEPA cartridge filters guarantee capture of up to 99.99% of fine particles down to and including 0.3 microns. They also provide more surface area, extended filter life and further resistance to dust build-up.
InfiniClean is available on the following Nilfisk CFM vacuums: VHW320 IC, VHW420 IC, VHW440 IC and VHT46 IC. Visit http://www.NilfiskIndustrialVacuums.com to learn more.
About Nilfisk Industrial Vacuum Division
Nilfisk Industrial Vacuums, a division of Nilfisk-Advance Inc. is one of the largest providers of cleaning equipment in North America. From its Morgantown, Pa., headquarters, Nilfisk Industrial Vacuums supports three brands – Nilfisk, Nilfisk CFM and Nilfisk ALTO – that provide industrial vacuums to manufacturing and industrial facilities. Equipped with exceptionally efficient filtration systems and user-friendly features, Nilfisk vacuums play a critical role in maintaining safe and sanitary processes in the pharmaceutical, food and chemical industries, among others. Only Nilfisk Industrial Vacuums has industry and application experts to help customers solve various cleaning challenges, including combustible dust, general maintenance, overhead cleaning, abatement, process integration, and laboratory and cleanroom contamination control. For more information, visit http://www.NilfiskIndustrialVacuums.com.
# # #