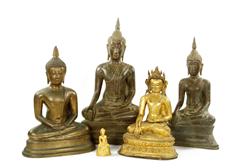 Beverly, MA (PRWEB) March 19, 2014
The April 6th auction at Kaminski will present important collections of Chinese, Japanese, Korean, and Thai art and antiques. Major collections presented include items from Surin Namkunee of Florida, a collector for over 45 years, as well as items from the collection of Mrs. Anna Fraser of California, wife of the distinguished WWII Army Colonel James Fraser. Colonel Fraser served as the Senior Military Attaché at the US Embassy in Seoul during the late 1940s and 1950s.
A gilt bronze figure of the Buddha from Thailand is poised to be the top lot of the day. The elegant figure dates to the fifteenth or sixteenth century, and was most likely produced in the city of Ayutthaya, a large city and the center of international commerce at the time. Appraisers have valued the statue belonging to the collection of Surin Namkunee at $10,000 to $20,000.
Another sitting Buddha from the Namkunee collection, this one fashioned of 24 carat gold, is also among the top lots. Dating to fifteenth century Thailand, the four inch tall Buddha is valued at $5,000 to $10,000. From the Sukhothai period comes another Thai Buddha, made of bronze and estimated at $3,000 to $5,000. A Chinese Ming bronze Buddha from a Santa Barbara collection is valued slightly higher; it's expected to sell for over $5,000.
A number of fine furniture pieces are also included in the sale. Among the top lots are a Chinese carved altar table from the Ming Dynasty, a Huanghuali cabinet, and a nineteenth century low wood table, each valued at $3,000 to $5,000.
Of particular interest is a gilt silver ewer inlaid with semi-precious stones. The nineteenth century piece also features intricate engraving and enameled flowers, and is expected to sell for between $2,000 and $4,000.
While many great Chinese ceramic pieces will feature in the sale, a particular piece of blanc de chine stands out. Depicting Guanyin with a child in her lap, the figure is further embellished with lotus flowers and leaves and likely dates to the seventeenth or eighteenth century. A similar figure stands in the Santa Barbara Museum of art. The example at Kaminski carries an estimate of $3,000 to $5,000.
From the estate of Colonel James Fraser come a variety of paintings, ceramics, and other decorative items. Among the most interesting of these pieces is a Korean lacquer box with inlaid design given to the Colonel in 1949 by the Major General of Korea Shin Tae Young. The large box is valued at $500 to $800.
Among the other decorative items in the sale is a Chinese carved jade urn. The urn features birds and floral designs, and is accompanied by a beautiful carved wood stand. The 8 ½" urn is expected to sell for between $2,000 and $4,000.
Preview for the sale will take place Thursday, April 3rd, from 10:00am to 5:00pm; Friday, April 4th, from 10:00am to 5:00pm; Saturday, April 5th, from 10:00am to 5:00pm; and Sunday, the day of sale, April 6th, beginning at 8:00am. All preview hours will be held at the Kaminski gallery at 117 Elliott Street, with the full online catalog to be posted at kaminskiauctions.com on March 21st. Online bidding will be available via KaminskiLIVE.