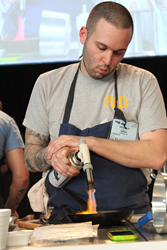 Boston, MA (PRWEB) March 18, 2014
The New England Food Show hosted its first-annual culinary cook-off competition yesterday on the center stage of the Boston Convention & Exhibition Center in Boston, MA. This three-day event is currently taking place (March 16-18, 2014) and is filled with 350+ exhibits, education sessions, culinary demos, networking and innovation for new ideas. The New England Food Show is in partnership with the Massachusetts Restaurant Association.
With 45 minutes on the clock, three distinguished, Greater Boston chefs took center stage of the New England Food Show yesterday to battle for the winning title of the competition. The participating chefs included Tim Maslow of Ribelle (Brookline, MA), Steve "Nookie" Postal of Commonwealth (Cambridge, MA) and Brendan Pelley of Zebra's Bistro (Medfield, MA). Within the time frame, each chef needed to prepare three different dishes to "wow" the judging panel. For each dish, the competing chefs were given the same main ingredients that needed to be included in their dishes (scallops, beef and clams). In addition, each chef garnished his dishes with his own unique flavor with a variety of other ingredients.
Although the competition gathered many attendees to center stage, the three chefs stayed calm and collected throughout the entire competition. Jenny Johnson, of Dining Playbook, was the emcee for the event and gave the audience a play-by-play of what was going on up on the cook-off counter. Once the time buzzer went off, the three chefs presented their three dishes to the panel of judges. It was a tough decision to be made, but the victor of the first-annual New England Food Show culinary cook-off was Tim Maslow of Ribelle (Brookline, MA).
The New England Food Show would like to thank the three very-talented chefs who participated in this year's event. The culinary cook-off sponsors included Costa Fruit & Produce Company, Paul W. Marks Co. Inc, TriMark and Steelite International. Tim Maslow not only took away the $500 cash prize, presented by Joe Piantedosi of Piantedosi Baking Company Inc, but also the title of winner of the first-annual New England Food Show culinary cook-off. Tim Maslow's Ribelle was given a four-star rating by the Boston Globe and is located in Brookline, MA.
The New England Food Show will be wrapping up today, Tuesday, March 18. Before the show floor closes at 3pm, the day will feature many show attractions such as exhibitions, culinary demonstrations, new products and exhibitor show specials.