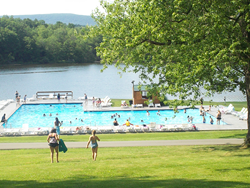 Camp Pocono Trails is an experienced summer camp where campers have a tremendous amount of fun and return home in the best physical and mental shape of their lives. We are delighted to extend that experience to the entire family with our new Family Camp.
Reeders, PA (PRWEB) March 21, 2014
Camp Pocono Trails, the nation's premiere weight loss camp and fitness camp for kids and teens, is pleased to announce the debut of The Camp Pocono Trails Family Camp.
Parents and kids will participate together in a full camp program while enjoying the private lake and beautiful, state-of-the-art facilities at the 340 acre property nestled in the Pocono Mountains. The days will be jam-packed with a full menu of sports and fitness activities, as well as cooking classes, nutrition classes and behavior modification.
"We wanted parents to experience camp first-hand so they can better support their child when they get home from camp," explained Tony Sparber, owner of New Image Camps which operates Camp Pocono Trails, as well as Camp Vanguard in Florida.
While the one-week family camp was created for campers and their families, it is also a great way for others to sample the Camp Pocono Trails experience and to get their whole family on a healthier track. "Family Camp is a unique opportunity for a family to learn together how to enjoy a healthier lifestyle. Spending a week together eating better and being physically active while having a lot of fun is a great way to jump start real change," said Sparber.
Structured and elective activities will make full use of the camp's facilities including a private lake, two outdoor heated swimming pools, zipline and climbing center, fitness and weight training center, tennis courts, basketball courts, dance and martial arts studios and so much more. Family nutrition and cooking classes will give the entire family the opportunity to be "on the same page" when families return home from camp. Entertaining and interactive evening programs will take place nightly. Families will stay in their own private cabins with private bathroom.
The Family camp was inspired in part by the success of Camp Pocono Trails Moms Camp. For the fourth summer, the popular moms-only camp will be offered from one to three weeks during the regular camp season. http://www.camppoconotrails.com/moms-camp/
Camp Pocono Trails Family Camp will run from Thursday, August 21st through Thursday, August 28th. The all-inclusive cost covers accommodations all meals, snacks and all activities. For more information or to register online, visit http://www.newimagecamp.com/poconos-family-camp.html.
About Camp Pocono Trails: Set on 350 acres, Camp Pocono Trails is the only weight-loss camp with accreditation from the American Camp Association that is on private self-contained property. Girls and boys, ages 7-21, enjoy a fun traditional summer camp experience while also learning good nutrition and fitness habits. With over 25 years experience, Camp Pocono Trails has helped thousands of overweight children lose weight, develop healthier habits and gain the strength and self esteem to make good lifestyle decisions. For more information, visit http://www.camppoconotrails.com or call (800) 365-0556.