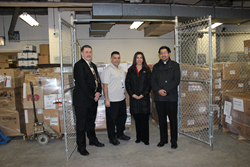 Hudson County, NJ (PRWEB) March 18, 2014
CarePoint Health has donated medical supplies valued at approximately $250,000 to support ongoing relief and recovery efforts in the Philippines in the wake of Typhoon Haiyan. The storm caused catastrophic damage throughout many parts of the island nation in November 2013, and severely impacted tens of thousands of Filipinos. The SAMU Group, headquartered in Spain, with over 30 years of experience in the health sector, social action and emergencies, will serve as the logistical arm of the endeavor and will distribute the much needed supplies. Given the significant Filipino population in the communities served by CarePoint Health, the donation represents a commitment by the organization to reach out to the needs of patients not only in our backyard, but also of families and friends around the globe.
In the aftermath of Typhoon Haiyan, health care resources in the Philippines have been under tremendous stress in affected areas. CarePoint Health saw an opportunity to help those with an acute need for health care supplies. In consultation with Filipino-American organizations in the United States, including the regional Filipino Diocesan Apostolate, CarePoint Health committed to providing medical supplies that would aid the ongoing efforts to bring safe and reliable health care to victims of the storm. Ten skids of materials, weighing over 5100 lbs., stocked with myriad medical supplies, were shipped to the Philippines and are scheduled to arrive at the port in Manila on April 29, 2014. The supplies include:

Scrubs
Gloves
Safety Needles
Respirator Mask
Tracheal Tubes
Medical OIV Start Kit
Arm Slings
Suction Tubing
Sanitizing Wipes
Casting bandages
Adult and Pediatric Gowns
Splints
Catheters
Syringes
CarePoint Health hopes that the donation will have a positive impact in the Philippines and that those still feeling the impact of Typhoon Haiyan will receive the help and assistance they need.
For more information about the donation to the Philippines, contact:
Allyson Miller
CarePoint Health
Vice President of Marketing and Public Relations
Phone: 201-858-5297
Fax: 973-646-5563
Email: AMiller(at)bayonnemedicalcenter(dot)org
About CarePoint Health:
CarePoint Health is bringing quality, patient-focused healthcare to Hudson County. Combining the resources of three area hospitals — Bayonne Medical Center, Christ Hospital in Jersey City, and Hoboken University Medical Center — CarePoint Health is a new approach to delivering healthcare that puts the patient front and center. With a focus on preventive medicine, disease management and healthcare education, CarePoint Health provides patients with 360 degrees of coordinated care, delivered by the area's best and most dedicated doctors, nurses, hospitals and medical staff.