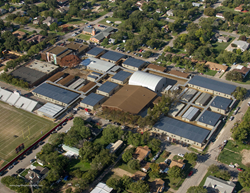 Mansfield, TX (PRWEB) March 18, 2014
Ramtech Building Systems of Mansfield, Texas has announced that two of the company's modular construction projects that were completed in 2013 have been entered into the 2014 Awards of Distinction program at the annual Modular Building Institute (MBI) World of Modular convention and trade show being held at the JW Marriott Hill Country Resort, March 21-24 in San Antonio, Texas. Ramtech will look to add to its 18 previous Awards of Distinction winning entries by entering two modular construction projects in the Relocatable Modular Category where they have achieved success in the past. Last year, the company placed first in the Education Over 10,000 sf. category with the modular school campus that was built for charter school operator KIPP Delta Public Schools in Blytheville, Arkansas. This year, Ramtech has entered the instructional and support facilities built for the West (TX) ISD in the same category. This was the project designed and developed to serve as the District's middle and high school campus which are temporarily replacing the permanent buildings that were destroyed by the massive fertilizer plant explosion on April 17 of last year. Located on the existing West Middle School site, the interim campus is part of the first phase of The Restore West ISD building program which comprises 28 separate structures including 17 new relocatable modular buildings that were designed, manufactured, and installed by Ramtech. The 69,776-square-foot modular construction project includes three 10-classroom buildings, four computer and science labs, two locker room buildings, an administrative office, cafeteria, band hall, and a life skills building.
Ramtech will also have an entry in the Office Over 5,000 sf. category featuring the modular construction project that was built for Hidalgo County to serve as their interim courthouse complex while the County renovates their existing courtroom structures. Developed as three separate buildings, two of the buildings are providing courtroom and administrative support space for criminal, civil, and family and child protective services cases, while the third structure is being used for administrative space for the District Clerks office. The facilities provide replacement space for courtrooms, jury rooms, and conference areas for the attorneys and their clients, along with several judges chambers, offices for court staff and reporters, and foyers with security at the public entrances.
This year's MBI World of Modular conference will be held for the first time in Texas after alternating between the East and West coasts since the program began in 1983. This year's exhibition promises to be the largest conference in the modular building industry's 31 year history. Capping off the convention each year is the annual awards reception and banquet. The highlight of this event is always the MBI's Awards of Distinction program which recognizes modular building excellence by covering several market categories for both relocatable and permanent building applications. The awards are judged by an independent panel of building design and construction experts on architectural excellence, technical innovation & sustainability, cost effectiveness, energy efficiency, and calendar days to complete.
About Ramtech Building Systems
Since 1982 Mansfield, Texas-based Ramtech Building Systems has been providing innovative relocatable and permanent modular buildings for government agencies, healthcare providers, Fortune 500 companies, and educational institutions throughout the Southern United States. As a vertically integrated design-build construction company, Ramtech offers full in-house design, a manufacturer direct product, and complete site construction services all within a single-source solution. By emphasizing a value engineering approach, Ramtech has successfully completed over 3,000 prefabricated buildings for diverse projects of all sizes. For more information, visit the company's website at ramtechmodular.com.