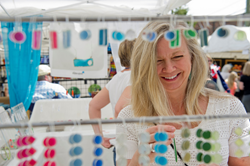 Alpharetta, Ga. (PRWEB) March 20, 2014
Art lovers rejoice! Alpharetta will be packed with three colorful (and free) events on the weekend of April 26 and 27, 2014. What better way to spend a beautiful spring weekend than exploring Alpharetta's art scene. You'll find it all the last weekend in April: hundreds of creative artists, colorful exhibits and cultural arts performances.
Kick off the weekend with the Artful Alpharetta Art Show
Cost: Free
Saturday, April 26, 10 a.m. - 4 p.m. - Alpharetta Welcome Center, 178 South Main St., Suite 200
Start the weekend off at the Alpharetta Welcome Center's art show that will showcase at least eight of Alpharetta's talented and accomplished artists, each displaying numerous pieces of premier art in various mediums. All participating artists are members of Alpha Arts Guild which promotes the greater visibility and awareness of North Georgia artists. Stroll through the various displays while enjoying complimentary refreshments. Learn first-hand about the work from the artists themselves. Be sure to enter the drawing for a hand embellished Giclee "Campbell Tire" original art piece valued at $450 by Jim Lappe. Jim is a self-taught artist who finds beauty in the vehicles and other relics from our past. Working with vibrant acrylic colors, he brings his subjects to life no matter how battered and neglected they are.
Continue on with the Alpharetta Art Walk
Cost: Free
While at Artful Alpharetta, pick up the "Alpharetta Art Walk" brochure. Known for its developing art scene, Alpharetta is turning into an art lover's paradise. Stroll through downtown and discover galleries and shops filled with a mix of established and emerging artists, fine and folk art, contemporary and traditional pieces. Original works and fine reproductions can be found at the following locations:

das Gallery
Firefly Restaurant
Gallery 35
Savvy Snoot
Sedgwick Gallery
Sis and Moon
Somerby of Alpharetta
The Treehouse at Sis and Moon
Othel Art Gallery
Complete the day at the Alpharetta Arts StreetFest
Saturday, April 26 and Sunday, April 27, 10 a.m. - 6 p.m. Downtown Alpharetta, Ga.
Cost: Free
Click here for photos.
Nearly 100 artists from around the U.S. will fill the historic downtown streets of Alpharetta on April 26 and 27 from 10 a.m. to 6 p.m. to present their high-quality artwork at Alpharetta Arts Streetfest. This colorful festival is free to the public and features live jazz and acoustic music, cultural arts performances, children's activities and festival cuisine.
View the Alpharetta Arts StreetFest YouTube video. For more information visit awesomealpharetta.com.
Other great events include:

With so much to do, why not stay the weekend? Visit awesomealpharetta.com for a full listing of hotel packages and rates.
Alpharetta Convention and Visitors Bureau
The Alpharetta Convention and Visitors Bureau serves as the official destination marketing organization for the city of Alpharetta, promoting tourism and attracting visitors to all 23 of Alpharetta's upscale and modern hotels. Visit awesomealpharetta.com for more information.