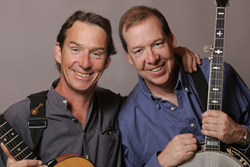 Let's carry a wee bit of the Saint Patrick's Day fun of March into April by bringing the Dady Brother's to the Andover Maple Festival.
Andover NY (PRWEB) March 21, 2014
A free concert of Irish folk music will be featured at the 42nd annual Andover Lions Club Maple Festival. The concert is sponsored by two local businessmen with Irish roots. Stephen Walker of Walker Metalsmiths Celtic Jewelry and Jerome Hart of Hart Brothers and Sons Memorials are both avid fans of Celtic music. Walker suggested to Hart that we bring a wee bit of the Saint Patrick's Day fun of March into April by bringing the Dady Brothers to the Andover Maple Festival. Hart agreed to share the sponsorship as a gift to the local community.
The Dady Brothers, Western New York's' favorite troubadours, bring a unique variety of Celtic and American folk music to each and every performance.
Originally from Rochester, NY the brothers have shared their music in many diverse venues around the country and abroad for over thirty years.
John and Joe are self-styled singers, multi-instrumentalist musicians and composers. They have a solid command of many folk instruments including, but not limited to: guitar, pennywhistle, fiddle, banjo, octave mandolin, harmonica, uilleann pipes, bodhran and ukulele. Their wide repertoire ranges from Irish folk ballads to original contemporary folk, bluegrass, and acoustic blues. They are at ease with their audiences and have a knack for finding humor in the moment and sharing it spontaneously.
The Andover Maple Festival has been an annual "Rite of Spring" for forty two years in this small village south of Rochester and west of Corning. A pancake breakfast, maple syrup demonstrations and sales as well as craft and food vendors are popular attractions at the festival. Free health and vision screening by the Lions Club, as well as entertainment and a chance to meet friends and shake off the cabin fever of a long winter bring thousands of visitors to the free event at Andover Central School.
Hart Brothers and Sons Memorials have been serving Allegany County with cemetery monuments for generations. Located at 45 South Main Street Wellsville, NY. Contact 585-593-2393. Walker Metalsmiths is a craftsman run workshop specializing in gold and silver Celtic wedding rings, crosses and handmade jewelry. With locations at One Main Street Andover, NY and 140 Packets Landing in Fairport, NY. For more information call 800-488-6347.