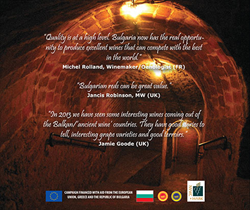 'Quality is at a high level. Bulgaria now has the real opportunity to produce excellent wines that can compete with the best in the world.'- Michel Rolland, Winemaker/Oenologist (FR)
New York, NY (PRWEB) March 19, 2014
The world's second largest wine producing country in the world in the 1980s, Bulgaria is now re-inventing itself as a producer of world-class wines from both indigenous and global varieties. Seven of Bulgaria's top producers will come to New York City in April to showcase some of these wines in an event organized by Colangelo & Partners Public Relations (http://www.colangelopr.com), one of the leading public relations agencies in the US dedicated to promoting wines from around the world.
From obscure, native grapes such as Mavrud, Red Misket, Rkatsiteli, Muscat Ottonel and Dimyat to international varieties including Cabernet Sauvignon, Cabernet Franc, Syrah and Viognier, Bulgaria's new generation of winemakers — with an eye toward tradition and a taste for modernity — are creating wines of great quality with unique character and reflective of their terroir. Leading global wine critics including Robert Parker, Jancis Robinson and Michel Rolland have recently taken notice of these new Bulgarian wines and are singing their praises.
The tasting event will be held at the Astor Center in New York City (http://www.astorcenternyc.com) on Monday, April 14th with a master class seminar from 11:30AM — 12:30 followed by a walk-around tasting from 1PM – 4PM. The master class seminar will be hosted by renowned American wine and lifestyle educators and writers Mike DeSimone and Jeff Jenssen, known as "The World Wine Guys."
Participating wineries (three of whom are currently sold in the US) cover all regions of Bulgaria and include: Chateau Burgozone from the Danubian Plains (Northern Bulgaria); Domaine Boyar from the Rose Valley (Sub-Balkan region); and Assenovgrad, Edoardo Miroglio Winery, Izba Karabunar, Katarzyna Estate and Vinprom Yambol from the Thracian Lowlands (Southern Bulgaria).
Members of the wine trade and press may register at https://bulgarianwine2014.eventbrite.com.
About Colangelo & Partners
Colangelo & Partners focuses on premium food, wine, spirits and lifestyle brands, and has long established relationships with the key press that drive these business categories and help determine the industry leaders. The agency continually creates unique story lines that are consistent with its clients' brand strategies in order to provide a steady stream of compelling content to journalists and keep clients in the news. Clients include brand marketers like Arnaldo Caprai, Avignonesi, Cultivate, Damilano, Guido Berlucchi, Marchesi de' Frescobaldi and Mulderbosch as well as institutional marketers such as Wines of Portugal, Vinitaly, Wines from Spain, DO Rueda, Slow Wine and Wines of South Africa. Founded in 2006, Colangelo & Partners was named one of the year's top integrated communications firms at the 2013 PR News Agency Elite Awards.