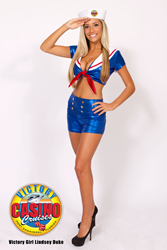 Victory Casino Cruises has garnered a good deal of attention since Lindsey Duke's visit.
Cape Canaveral, FL (PRWEB) March 19, 2014
Victory Casino Cruises in Cape Canaveral, FL has garnered a good deal of attention since they first posted the pictures of Lindsey Duke to their website. The stunning blonde has definitely increased interest in the cruise line.
Since her visit and her pictures went live on the Victory Casino Cruises website, there have been more than 6 million searches for Lindsey Duke pictures. It's hard to believe that one south Florida beauty could make such a splash, but perhaps the fact that she's the girlfriend of UCF quarterback Blake Bortles.
Blake Bortles has been receiving a good deal of attention from the NFL in recent months, and with the NFL Draft coming up, it looks like he may be in the perfect position to actually make his way into the big leagues. With all of the attention that his girlfriend has been getting, his position has actually been strengthened. NFL team managers are considering signing Bortles simply because they can benefit from his high school sweetheart - using her as a face to promote the team.
Of course, Bortles deserves his own place in the spotlight as well. He is ahead of the competition in the NFL Draft, which means that he may be the first-drafted quarterback for this year's NFL ranks. He is set to earn his own fame, but the fame of his beautiful girlfriend will definitely enhance the public's perception of him.
But, it's Lindsay Duke that has stolen center-stage, as well as a place in the hearts of millions of Americans. Victory Casino Cruises has capitalized on the celebrity of the beauty, and has contracted her to be one of the models to be the face of the company.
Click here to check out the pictures of Lindsey Duke that went viral to see why she was the hot topic during Bortles' interviews with the NFL.
This has increased the media coverage of both her and her quarterback boyfriend, ensuring that they both hold the place that they deserve in the public eye. The attention that she has gotten has kept the country focused on Blake Bortles as a quarterback, and who knows how far he'll be able to go this year!